The 2019 guide for your Facebook Ads campaigns
You would like to advertise Facebook (also called Facebook Ads) or improve your current results but you still do not know how to do it?
I'm not talking about pushing the "boost the publication" button, but to create advertising campaigns via the Facebook advertising manager.
Here is the complete guide to Facebook advertising in 2019. With this article that reveals everything about Facebook Ads, you will finally have the elements in hand to start your campaigns.
Big update June 2019
Why advertise Facebook in 2019?
As you probably know, the Facebook Reach or organic reach, keeps going down to maybe totally disappear at this rate! The only alternative when you are on Facebook is often the use of advertising to gain visibility.
Many people have used advertising for their Facebook page in lack of commitment, to revive it and thus reach new customers, readers etc … However advertising is also used for all companies that control the creation of audiences and who succeed to benefit substantially.
Some organizations manage to realize the majority of their turnover, thanks to the advertising they make on Facebook.
Advertising Facebook is above all seeking visibility, gaining traffic and increasing business. The 3 key elements that are regularly found in the digital strategy for its website.
Facebook Advertising: What you need to know before you start
This may seem difficult or intimidating, but creating a Facebook Ads campaign is much simpler than you think. In fact, you can learn in just a few hours with this guide article that should help you.
This 2019 guide on Facebook advertising is for the beginner and the community manager in charge of Facebook ads.
We will see together the essentials for the success of a Facebook ad like:
Your goal
Your target
Your investments
Your advertising
Your budget.
Do not forget to check the items to install the Facebook pixel to target your ads.
1) Know your goal before creating your Facebook ad
To create a Facebook Ads campaign, you must visit this page: the Facebook ad manager, and then create an advertising account if yours is not created yet.
If you have already created it, you should be familiar with the "goals". Goals are essential before starting anything in advertising.
Facebook gives you here the different objectives that one will seek to reach via its platform.

So to start on a good foundation, you must be very clear about your marketing goal. Depending on the goal you choose, Facebook will optimize the delivery of your advertising differently.
In other words, it will not be the same people in your audience, who will see your ads on Facebook according to the objective you have chosen.
Here is an example :
Are you a community manager and would like to get more engagement on your Facebook posts?
Choose the "interactions" goal, Facebook will show your ads to people most likely to like, comment or share your posts!
Another example :
Are you a blogger and want to boost your blog traffic? So, choose the "Traffic" goal, Facebook will then show your ads to people who often click on links.
The choice of your goal is not very complicated in itself. You just need to know that this choice will determine who will see your ads.
Note: A common mistake is to be mistaken between the goal traffic and conversions.
Indeed, for the 2 objectives, you send people on a web page but with a different end result.
With the Traffic goal, you want to visit your website, that's it!
With the Conversions goal, the end result is different. You also send traffic to your website but with a specific purpose, conversion.
Conversions are different from each other. You might want traffic to reach these different conversions for example:
Subscribe to your newsletter
Download an ebook or a white paper
Buying a product on your shop
Request for information on a service etc …
It's up to you to make the right choice according to your final goal! You will also be able to compare your advertising objectives with your favorite Facebook interactions: like, click, comment or share. This will help you evaluate traffic to your site based on the number of clicks you've saved. To get the Facebook conversion pixel and Google Analytics coupled to your site will help you track your prospects.
2) Who are you referring to through your Facebook ads?
Now that we've chosen your goal, it's time to find your target. When you still have little experience, the best is to test the socio-demographic and interest-based targeting.
If you choose only the basic options of socio-demographic targeting, you will get an audience of this size! Suffice to say that it is important and that you will not touch all the people behind this target!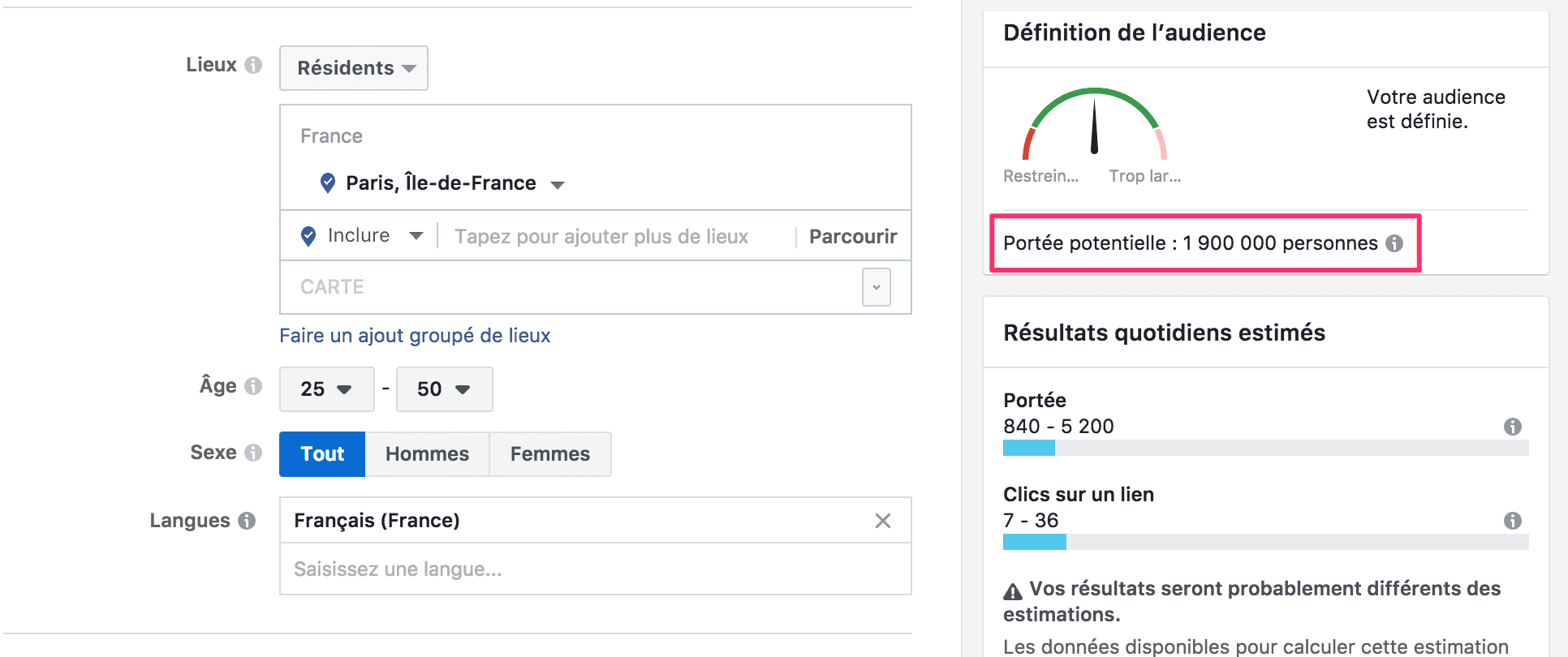 1,900,000 people, does it sound good to you?
I hope you answered "no" because we want a well-targeted audience!
Indeed, you are competing with 6 million advertisers according to Facebook statistics and according to an auction system.
Choosing too large a audience is like shooting yourself in the foot as you compete with more advertisers.
How to decrease the size of your audience on the Facebook Ads Manager?
Through the Facebook advertising manager it will be necessary to interact on advanced targeting according to interests and behaviors. Hence the importance of having a clear idea of ​​your ideal customer and your market.
What are his hobbies or interests?
Which magazines / blogs does he read?
What are his problems or frustrations?
Who are his competitors?
Are there communities in its market (and therefore Facebook Pages)?
Know how to put yourself in the shoes of your target and define a maximum of interests. All will not be useful at first because it will be necessary to proceed by elimination. Some areas of interest will be much more talkative than others in the context of advertising targeting.
By adding or removing some of interest you will see in all cases the Facebook gauge of the hearing increased or decreased more or less quickly. The goal is to get an ultra-targeted audience!
Take the following example:
You own a yoga center in Paris. It's a big city and as I've shown you, targeting men and women between the ages of 25 and 50 via Facebook gives us an audience of almost 2 million people.
To reduce this audience to optimize your Facebook advertising, you could use interests and refine your targeting by choosing only women who love yoga.
Let's see what it would give: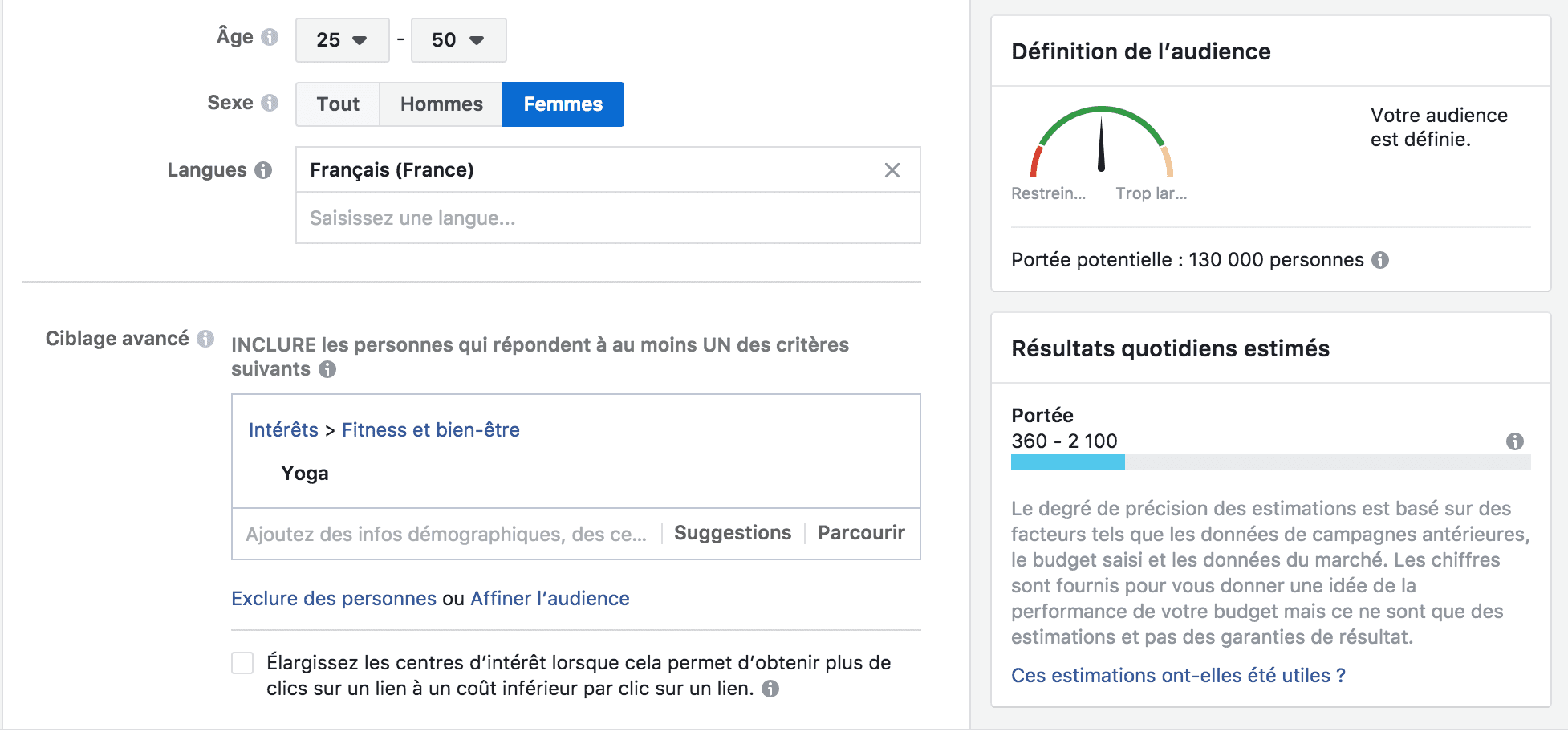 130,000 people! Do you think it's good now?
No, it's still a little too much! You could run out of space in your yoga center with so many people.
By choosing this targeting, I focus on women between the ages of 25 and 50 who have shown an interest in Yoga. But maybe some of them just once watched a video on Yoga and Facebook concluded that they were interested in Yoga. (integrate this concept well)
But this is unfortunately not because you once watched a video on Yoga that you are interested in the subject. That's why we still have to refine our targeting.
I told you to know your customers better. To better know my target and create an optimized Facebook ad, the first thing I would do would be to search for yoga magazines that interest women.
A search on Google allows me to find the magazine in question.

Someone has already done the work for me, so I click on this link and find a list of the best Yoga magazines. It's good, I found mine!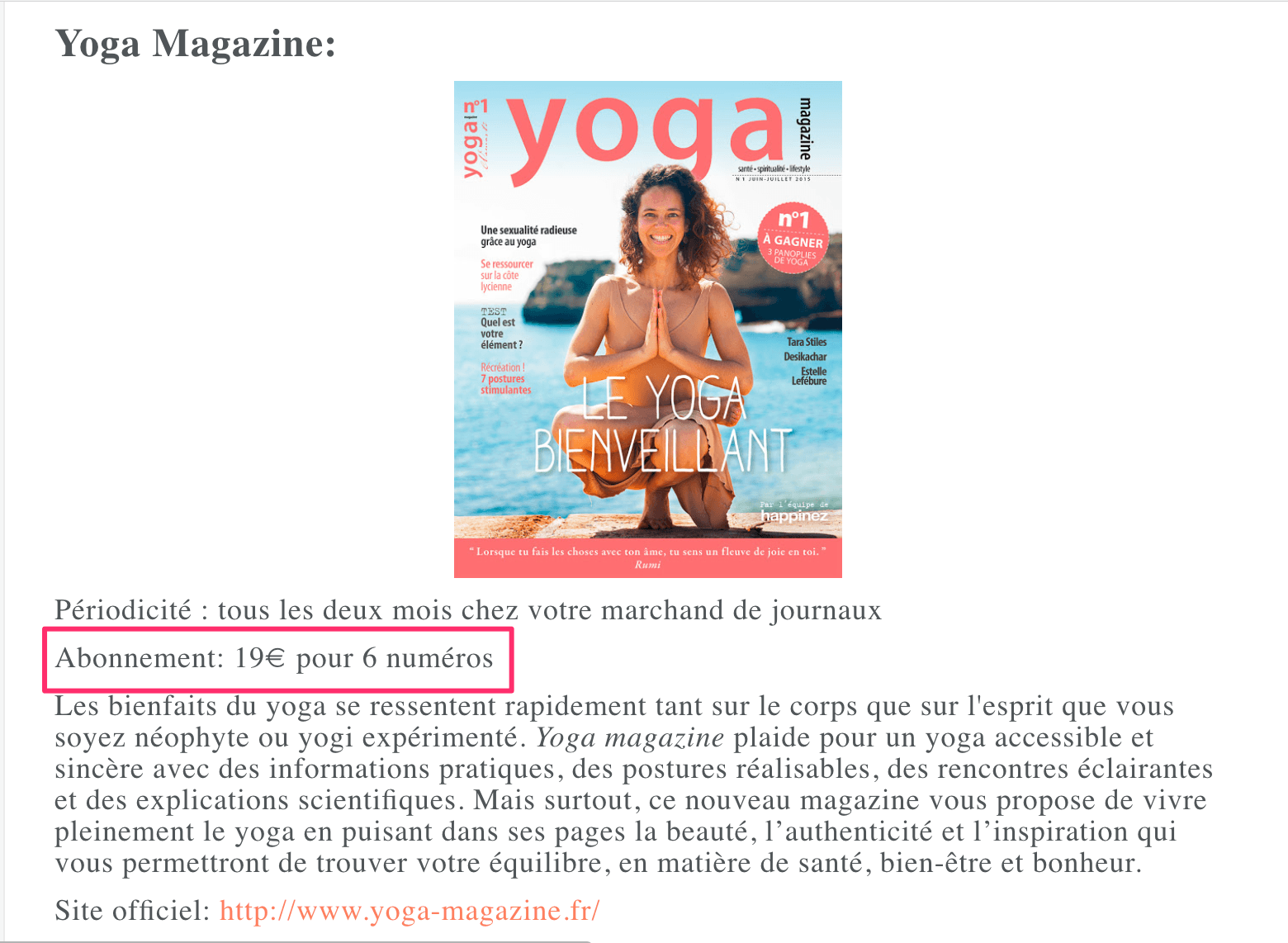 The other benefit of targeting people who read magazines is that they are paying.
If these women pay to read these magazines, then they may be able to register for my yoga class. Now I just have to go back to my ad manager and add one or two Yoga magazines to my targeting.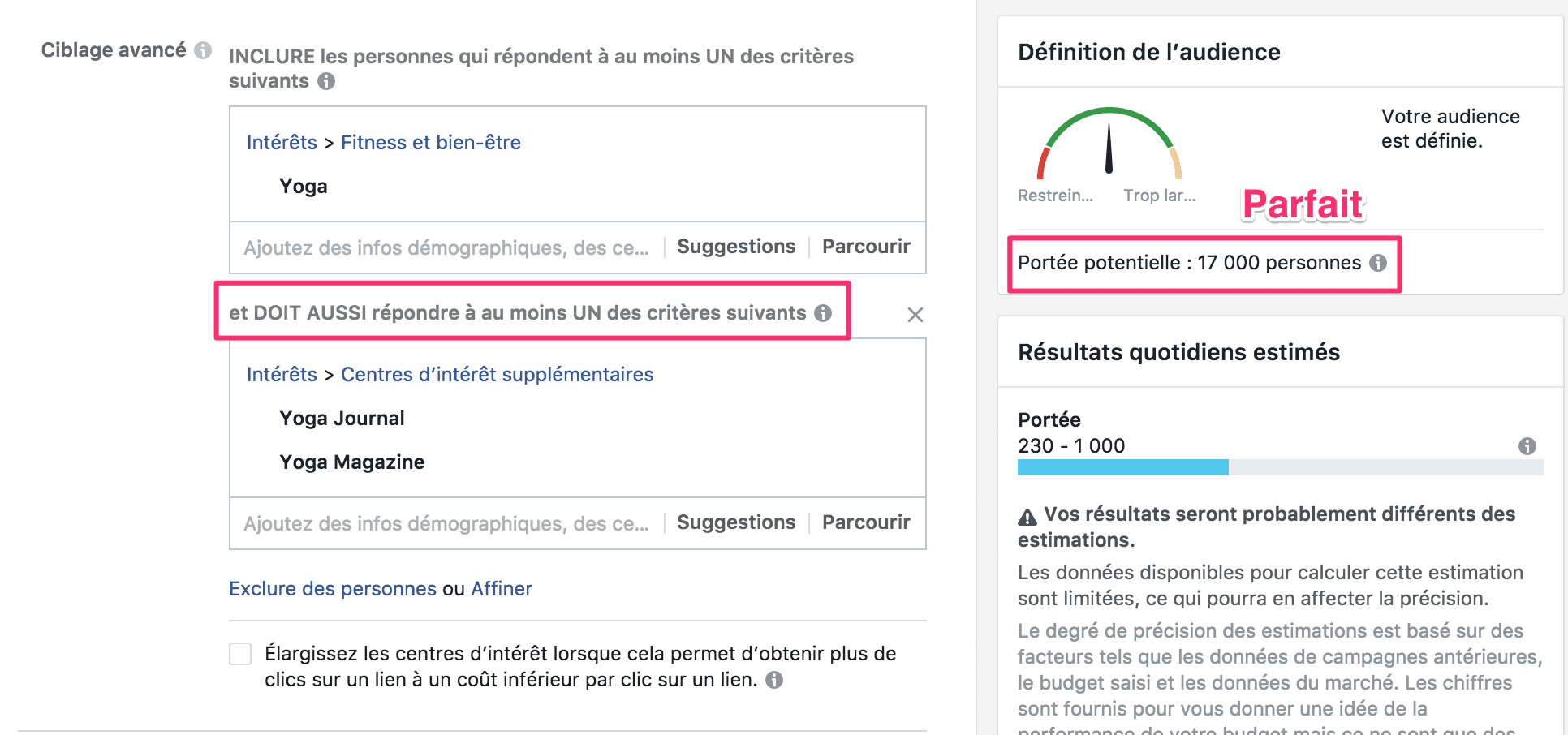 This is a well-targeted audience of 17,000 people for our Yoga center.
Now where to place our ads?
3) Where to position your Facebook ads?
Advertising on Facebook also comes back to advertise on Instagram, Messenger and the Audience Network.
Fortunately, Facebook gives you the choice to select the placements of your ads that seem most consistent. By default you have the automatic placement of advertisements that is recommended by Facebook.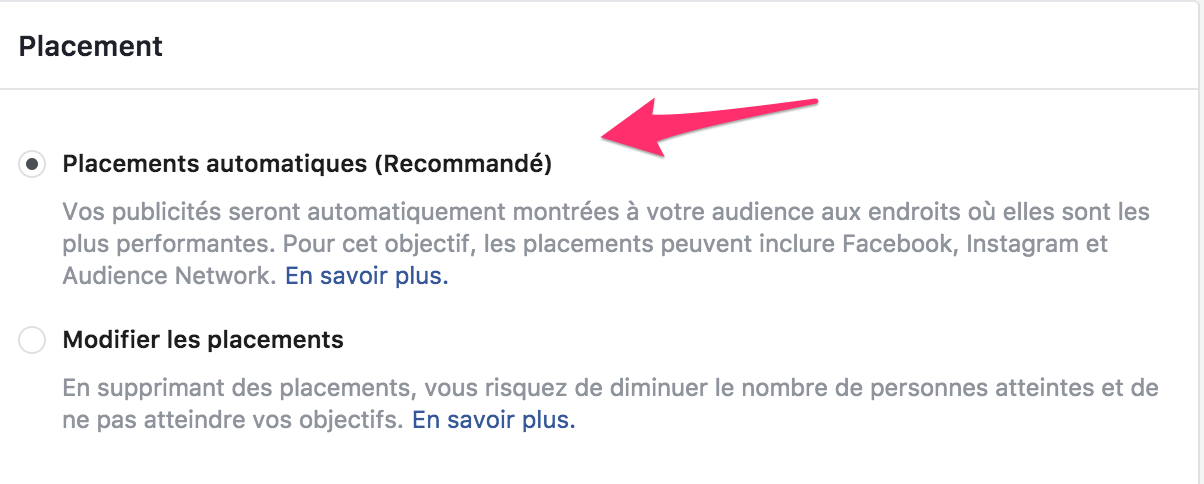 Facebook therefore recommends the "automatic investments" option, which is to let it show your ads everywhere on its network and where they are the most efficient.
Which option to choose for placement of its Facebook ads?
Most of the time, it's best to start with the "automatic investments" option so that you can analyze which are the best performing investments a few days after the launch of your ad.
You will not be able never know in advance what works best. Advertising requires many tests before finding the right audience … to target at the right time. It's a permanent A / B testing.
Once the best locations are determined, simply go back to the settings to edit them and choose to exclude those that do not work.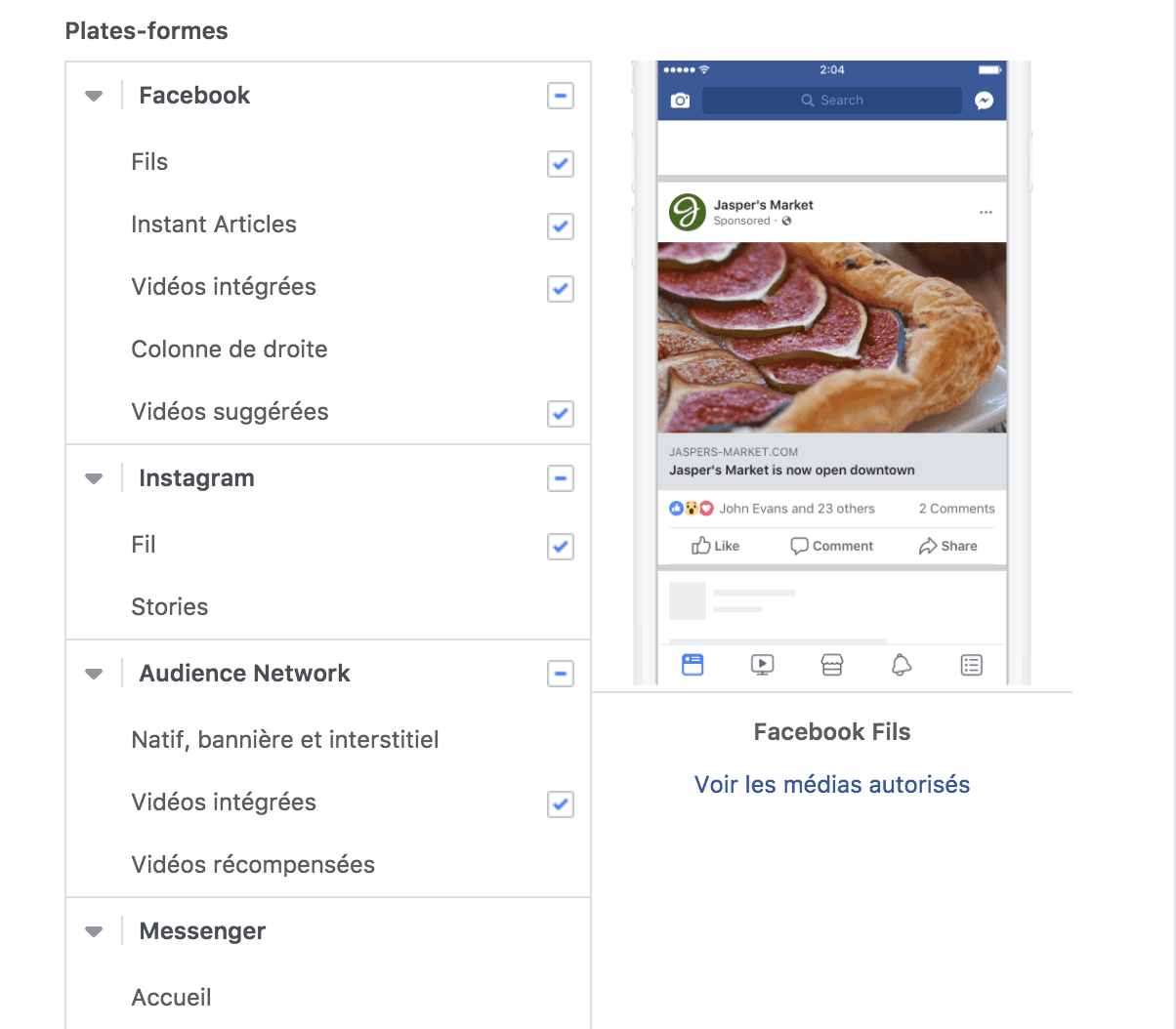 In general, I find that the "Audience Network" placement gives you a low CPC (cost per click). Facebook will then broadcast your advertising mainly on this placement.
The problem ? These clicks can be low quality or accidental (people click and leave the page as fast). So it's up to you to see if this placement could work better for you.
4) The anatomy of a Facebook ad
For a Facebook ad to work well, it's not just about targeting your audience, although that part is the main part of the job. It is also necessary to have the good visual, the good news and the good message accompanying it.
Here's what a classic Facebook ad looks like, the news feed on the desktop: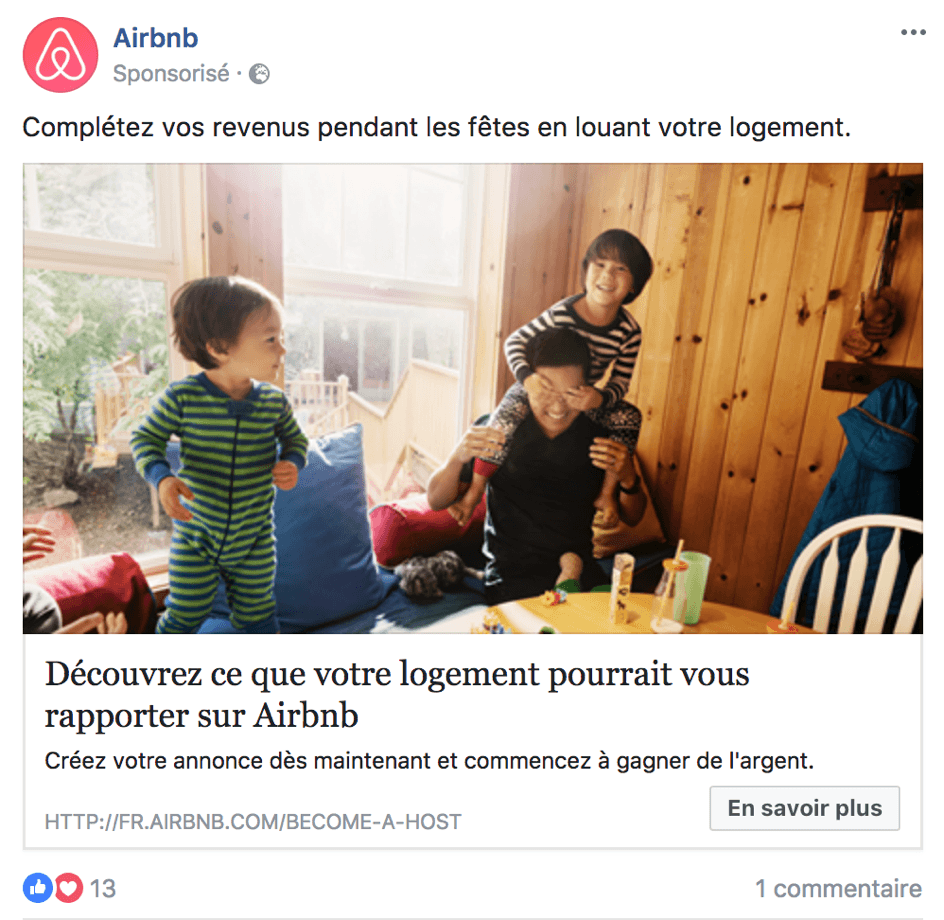 Before making an advertisement, we must be clear on the "anatomy" of it and the terms used.
Facebook ads must contain at least these 5 items:
A catch (text above the image).
A creative element (image, video).
A title.
A description (text below the link).
A call to action button (abbreviation: CTA).
Here's what it looks like in image through this Airbnb ad: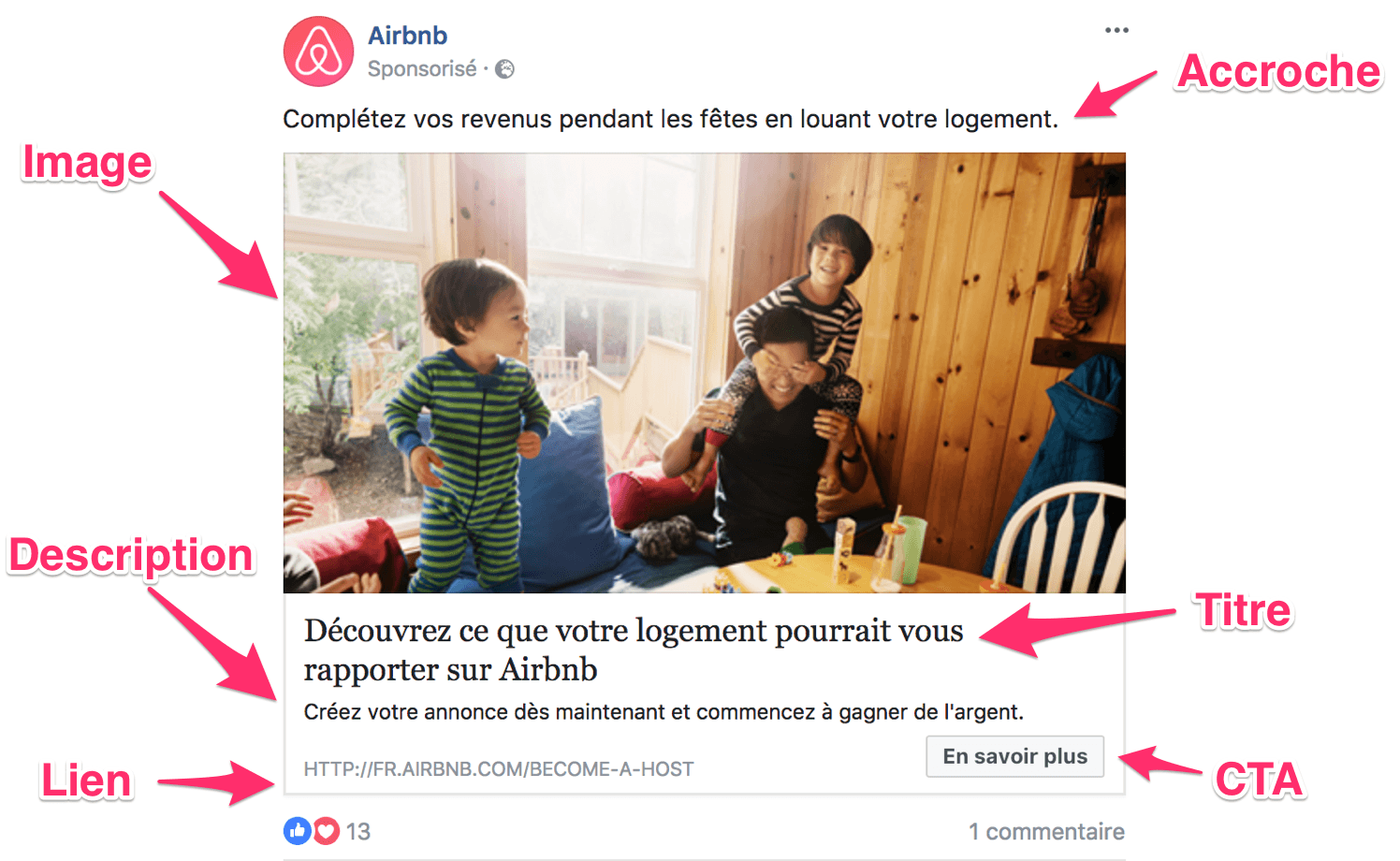 The most important element of your advertising is most definitely the image. It must attract the attention of the user and must therefore be of good quality, while standing out in the news feed. Choosing a visual may take a long time but it is necessary to make the right choice to attract your target.
Sometimes it can be interesting to play on the colors that quickly catch the eye when they stand out in the news feed, but it's up to you to see according to your activity and what you want to promote.
On Facebook, the main colors are blue and white, so an image like the one Airbnb chose is easy to distinguish.
The catch of your advertising is supposed to hold the attention of the user and to arouse his interest.
Airbnb is doing very well with this catchphrase: "Supplement your income during the holidays by renting your home". The title as for him, must generally contain your value proposition (what you offer).
Airbnb's offer, everyone knows it, so the company did not really complicate life with the title: "Find out what your home is could you bring back with Airbnb ».
What is interesting to note is that this title plays on curiosity. Indeed, to know how much your housing could you bring backyou will have to click on the advertisement.
The description is useful for adding a call to action, as did Airbnb: " Create your ad right now and start making money. " Airbnb plays on immediacy and imply to its target the simplicity of use of its platform. In short, quickly create an advertisement and see what it will bring you just as quickly!
Let's go back to our example of advertising on the Yoga Center:
To resume our yoga center, I imagined an advertisement to promote this service.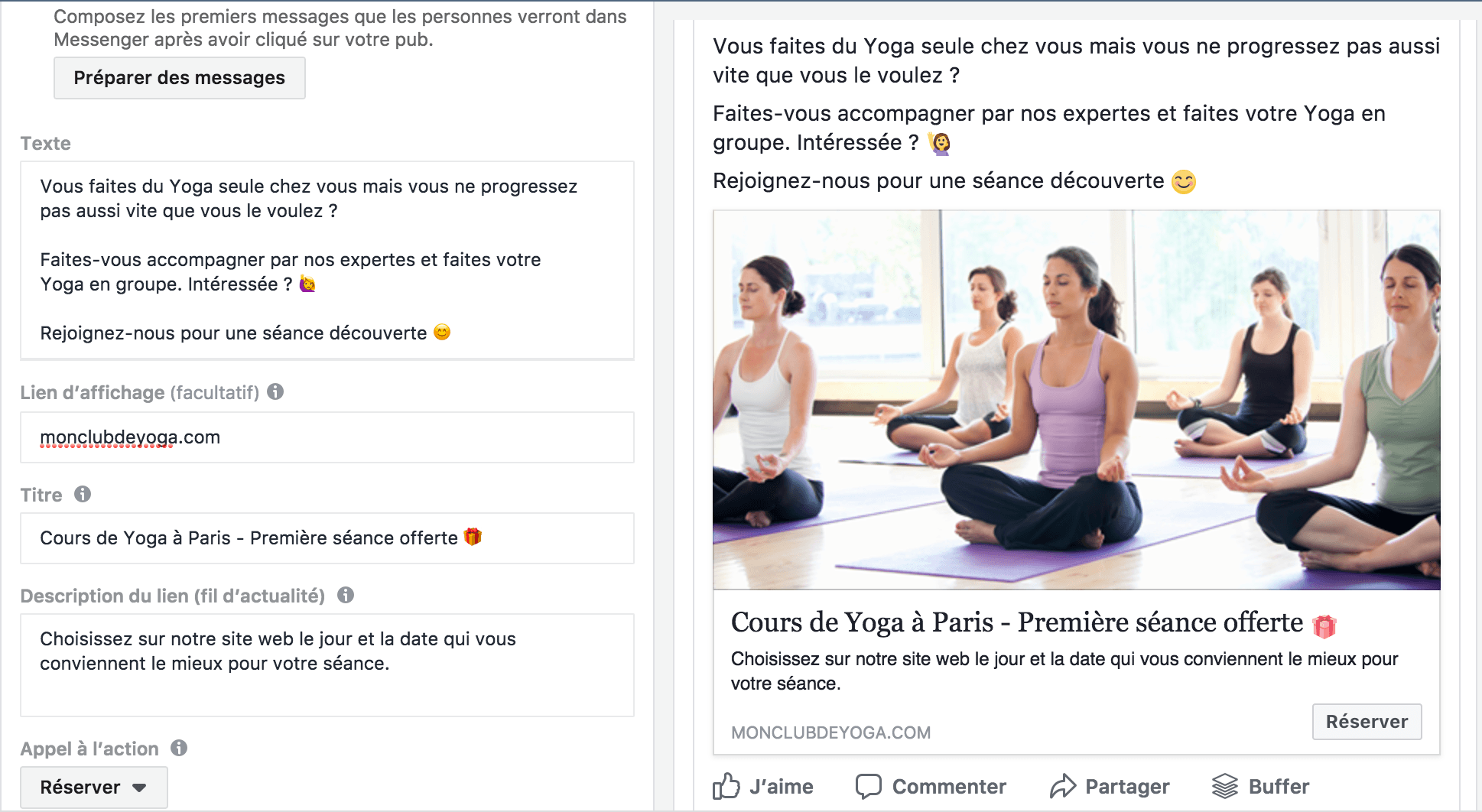 I used the catchphrase to evoke the problems that surely women who make their Yoga alone
Difficulty to progress without specific support.
Solitude.
You see immediately that my catch shows that I speak directly to women.
I then introduced my offer after having put their finger on their problems: an accompaniment with experts and in group. I also used emojis for give a friendlier tone to my advertising and "disguise" it as a classic publication.
For the image of my Facebook ad, I opted for a simple visual: women doing Yoga in a group.
The title represents my value proposition: Yoga class in Paris – First session offered.
The first session is offered. Some women may not want to get involved until they have a discovery session, so why not give the first session?
The description where I give additional information on what they must do to take advantage of the offer: visit my website and choose the day and the date that best suits you.
The call for action that Facebook offers: I chose "Book".
Now all that remains is to determine the budget to spend on my completed advertising.
5) What budget will you invest to advertise Facebook?
This is one of the most common questions about the budget to invest in its Facebook advertising campaigns.
How much will it cost me to advertise on Facebook?
My answer : As much as you are willing to pay.
Indeed, for some advertising campaigns, you can start with a 1 € day, which is the minimum on Facebook. For example, the "interaction" campaigns are not expensive at all and you can, if you wish, run interaction campaigns for only € 1 a day.
Of course, for a traffic campaign to the website, the cost will be higher becausea click is more valuable than a simple interaction. Facebook makes you pay more because the person who clicks on an ad link Facebook's fate.
As a general rule, I like to set a daily budget of € 5 per audience and then increase the budget on audiences that are performing well.
The advertising budget choices proposed by Facebook
Facebook lets you choose between 2 solutions:
A daily budget
A budget for the duration of the campaign
At the same time, you can decide on the timing of your ads (set a start and end date or stream without end date).
Here's how to do it in practice: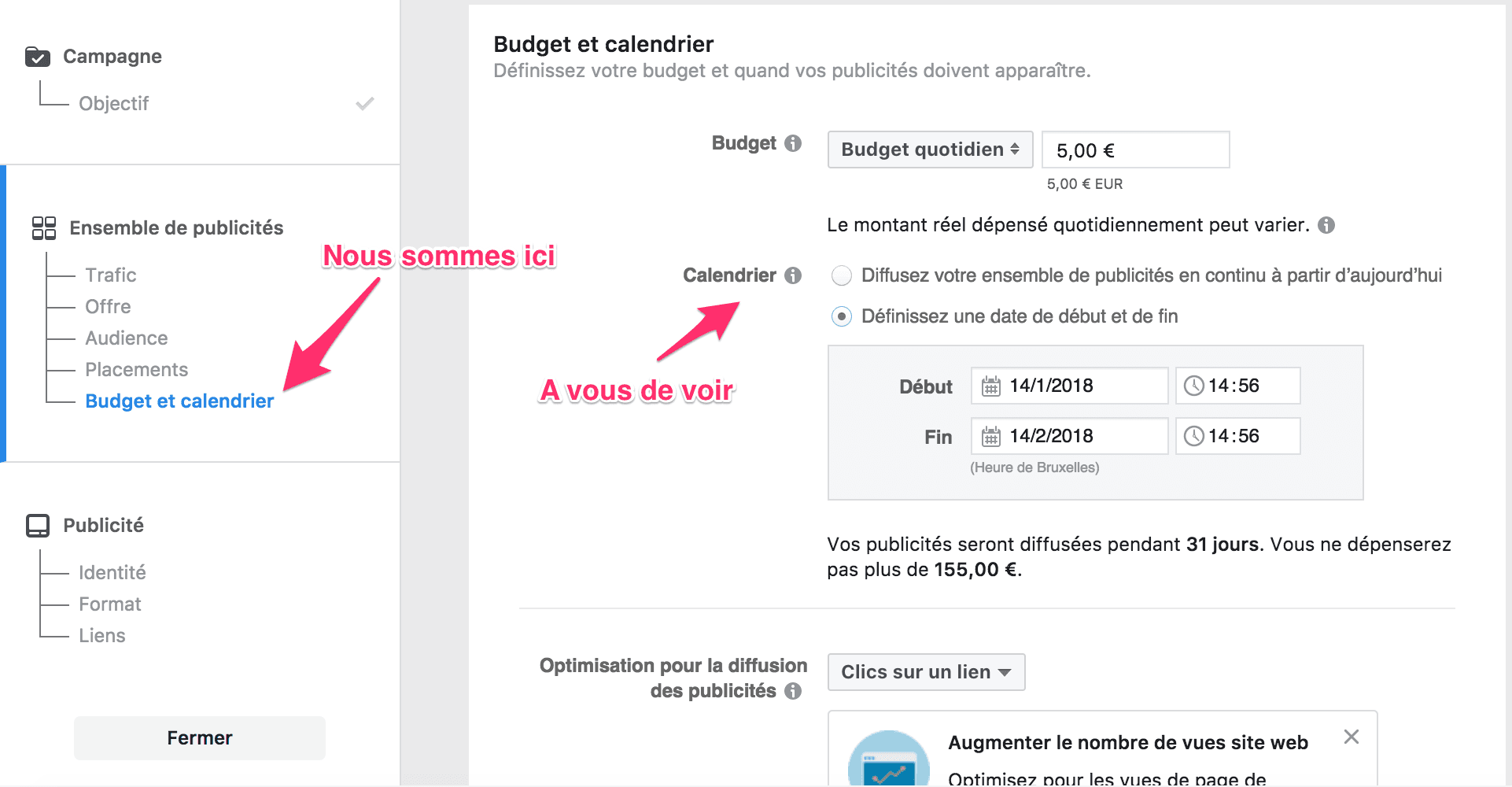 In a few clicks it's done!
What should be chosen between daily budget and budget over the duration of the campaign?
There is no right or wrong answer but let me explain the operation of these two methods because it is not possible to change once you have determined:
Daily Budget : If you set € 20 a day for 7 days for your advertising campaign, Facebook will ensure that you do not spend more than € 20 per day. In the end, you will have spent 140 € on the week, distributed equally.
Budget over the duration of the campaign : if you set for example € 140 for your advertising campaign, Facebook will divide the total budget more or less equally on fixed dates but with days when you spend more and others less. You will always be close to an average / day.
If you choose the second option, you will have to set a start and end date, which I do not like to do.
Personally, I prefer to choose the daily budget that gives you a little more control over how Facebook will spend your budget.
6) Know how to evaluate the performance of its Facebook ads
It is very important to know how to evaluate the performance of your Facebook ads, otherwise you will spend your budget unnecessarily. In terms of Facebook Ads you have to ask a moment and calculate what you cost what you want to promote against the budget that you will spend.
Think about margins, not turnover, because the budget expenditures for advertising are clear.
Example: A product costs you in purchase price 300 € and you sell 600 € HT. We agree that the ratio here is double between purchase price and selling price excluding taxes.
So if you are advertising Facebook to sell this product, it will be necessary that the expenses are accordingly. If you spend 600 € on advertising, it will not be a question of selling in return a single product sold 600 € HT but 2 products that cost you at the base 300 € HT! Otherwise you will lose money. What you spend on advertising is a net margin, not a turnover. The selling price covers in principle your expenses (staff, charges …)
In this example it is assumed that you must know the purchase price of its products to optimize its ads. However, you also need to think about the actions around you if you communicate more on social networks or otherwise. Establish a reliable ratio to calculate your ROI.
Your ROI on your ads may have to be based on a ratio of € 4 spent for one euro to invest. It's up to you to find the right formula to avoid losing money. That is why it is sometimes more interesting to use Facebook ads for products at average prices rather than at very low prices… unless the volumes follow.
Remember to establish your budget based on the price of your products. For the services it is up to you to establish the right calculation between the time to invest and the returns obtained.
To conclude on Facebook advertising in 2019
If you have read this guide article carefully, you know that the first thing to do before doing your Facebook advertising is to determine your goal:
Traffic, engagement or conversions?
Up to you !
Moreover, Facebook's Facebook update will favor (even) more the publications of your friends to those of the brands and the media, you will probably have to run interaction advertising campaigns.
Then think about refining your targeting, choosing your investments and determining a budget to get started. Finally, all you have to do is create an advertisement that attracts attention and arouses interest, as I showed you.
As a bonus
If you would like to know more about how to advertise Facebook, I wrote a little Bible on the subject, The Facebook advertising guide, a more complete ebook where I explain in detail the operation of Facebook ads.
Specifically, you will learn how to launch a campaign (click by click) and use all the targeting options that Facebook offers. I will also give you my best tips for writing a persuasive advertisement and choosing your images.
You can download this guide for free: Facebook Guide
Overall rating of our readers
Your rating
[Total: 148 Average: 4.7]