How to write a FB post to boost your page?
Writing a Facebook post is more difficult than it sounds. When you think about it, many ingredients are involved in writing a publication:
Visual (image, video, gif, etc.)
Description
Title (if you share a link)
Time of publication
There are dozens of variations for each of these 4 ingredients and it is often the community manager to cope with, to produce the good Facebook publication for his community.
You could choose an image rather than a video, a longer description or ask a simple question, a title that plays on curiosity and less on results, etc.
Clear, the perfect Facebook post does not exist. It's up to you to make it perfect for your audience.
This is what we will see in this article:
Tips for writing better descriptions.
A technique of copywriting (persuasive writing) known to make your Facebook posts more catchy.
Write a Facebook post that complies with the rules of Facebook's algorithm (and increase your reach organic).
1) Test the length of your Facebook post
When it comes to writing a Facebook publication in community management, the question that often comes up is: Should a short or long description be written?
The good news is that the character limit for Facebook posts is 63.206! So there is really no limit to the length of a publication.
You can write an entire blog article as a description, but no one will read it. A study by Buffer showed that publications not exceeding 80 characters were commitment rate 66% higher.
I will tell you what I think. It all depends on your goal. Do you want commitment or boost your traffic?
On my Page, I found that a short description on a Facebook post is much better for getting clicks on the link (s) I publish. I did not use Facebook advertising for this post: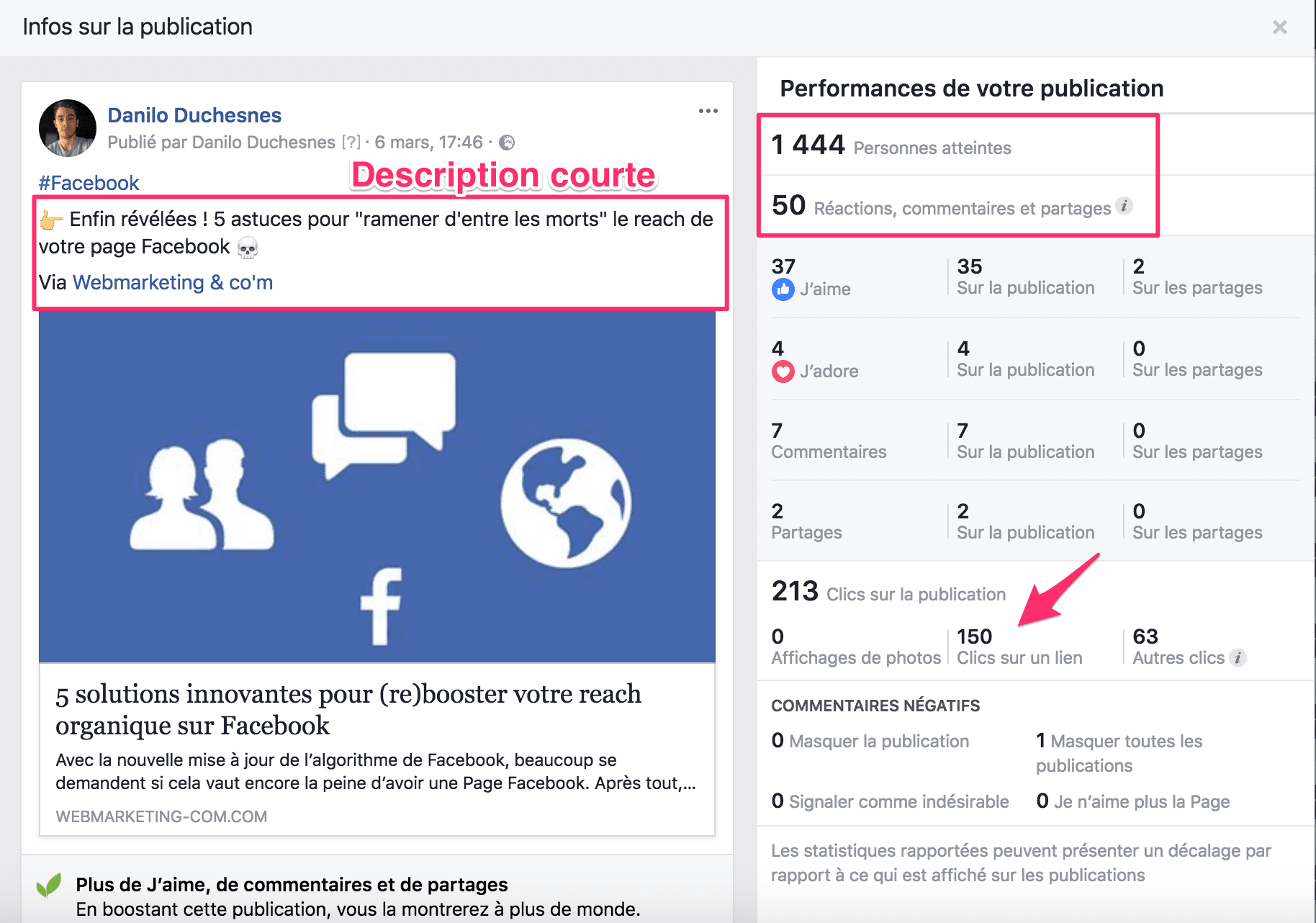 As you can see, on this post, the description of my Facebook post is very short but plays on the curiosity of the reader.
"Finally revealed! 5 tips to "bring back from the dead" the reach of your Facebook page
"
We will have to click to know the 5 tips!
On the other hand, I found that descriptions of long Facebook posts work better for engagement.
Writing a longer description for your Facebook post makes it easier for you to communicate emotions and even to tell a story (in other words, storytelling).
Like Instagram, Facebook is a social storytelling network par excellence. Put simply, it's the network where you tell your life, both for yourself and for business.
For example, this post that contains only one long text (without image) in "storytelling" mode, still received a very good engagement rate.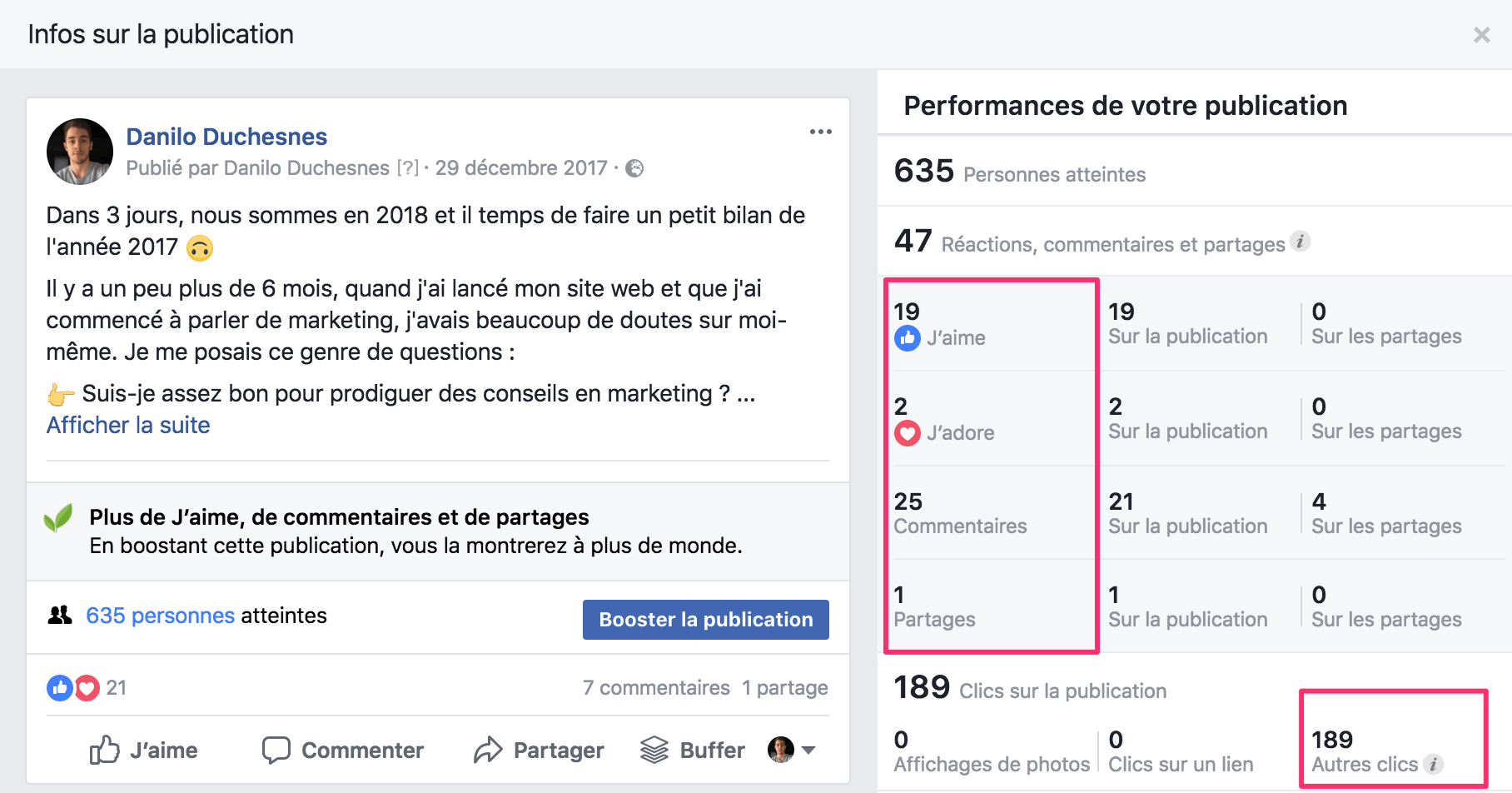 Why this very good engagement rate on my Facebook post ?
Simply because I was telling a story and I involved fans of my Facebook page in this story. So you see that there is no absolute rule in terms of the length of the description.
Generally :
If you want us to click on your links, make short descriptions for your Facebook posts.
If you want to get likes, comments and shares, tell a story or convey emotions (it may be necessary to write a little more)
Also remember that not all emotions will have the same sharing potential.
Emotions such as laughter and astonishment provoke more sharing than emotions such as sadness or anger, according to the results of a study conducted by Buzzsumo.
To test yourself and measure engagement on each of your Facebook posts.
2) Use the AIDA formula for your Facebook posts
AIDA is an acronym for:
A for Attention : capture the attention of the person (obvious, I know!).
I for Interest : arouse interest with facts, affirmations, etc.
D for Desire : to create desire by playing on one's emotions and what she needs.
A for Action : giving her your solution that drives her to action.
The AIDA formula is a copywriting formula used everywhere: on Facebook, on your website, in emails, television ads or social media publications.
For example, So Shape knows how to capture your attention, spark your interest and give you mouth water to buy one of their meals.
Look at their homepage.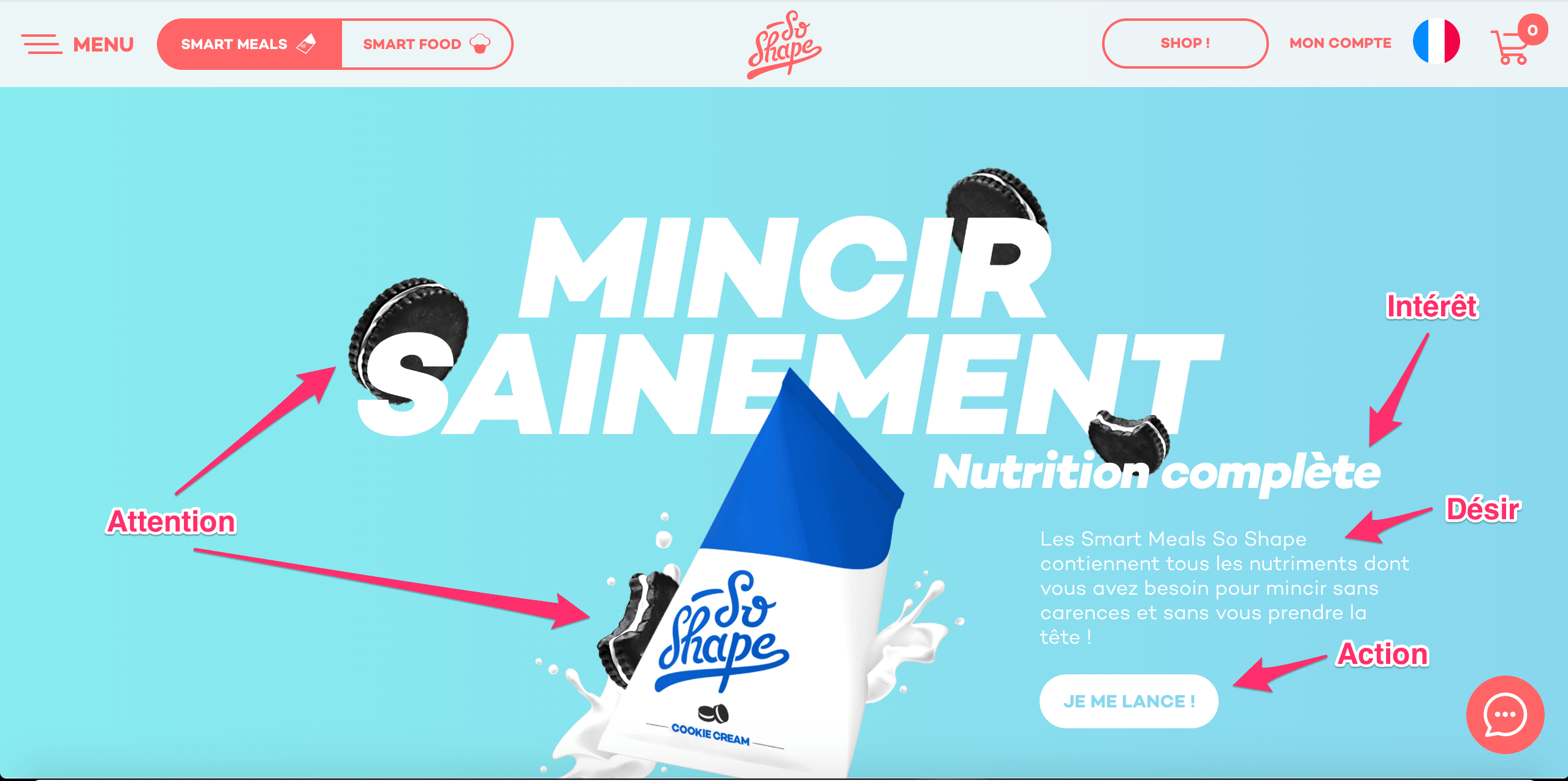 The image and the title allowdraw attention. Subtitle is then used to to arouse interest and to provoke desire We end with a call to action button for push to action (logical, I know).
On Facebook, you can do the same thing in your publication.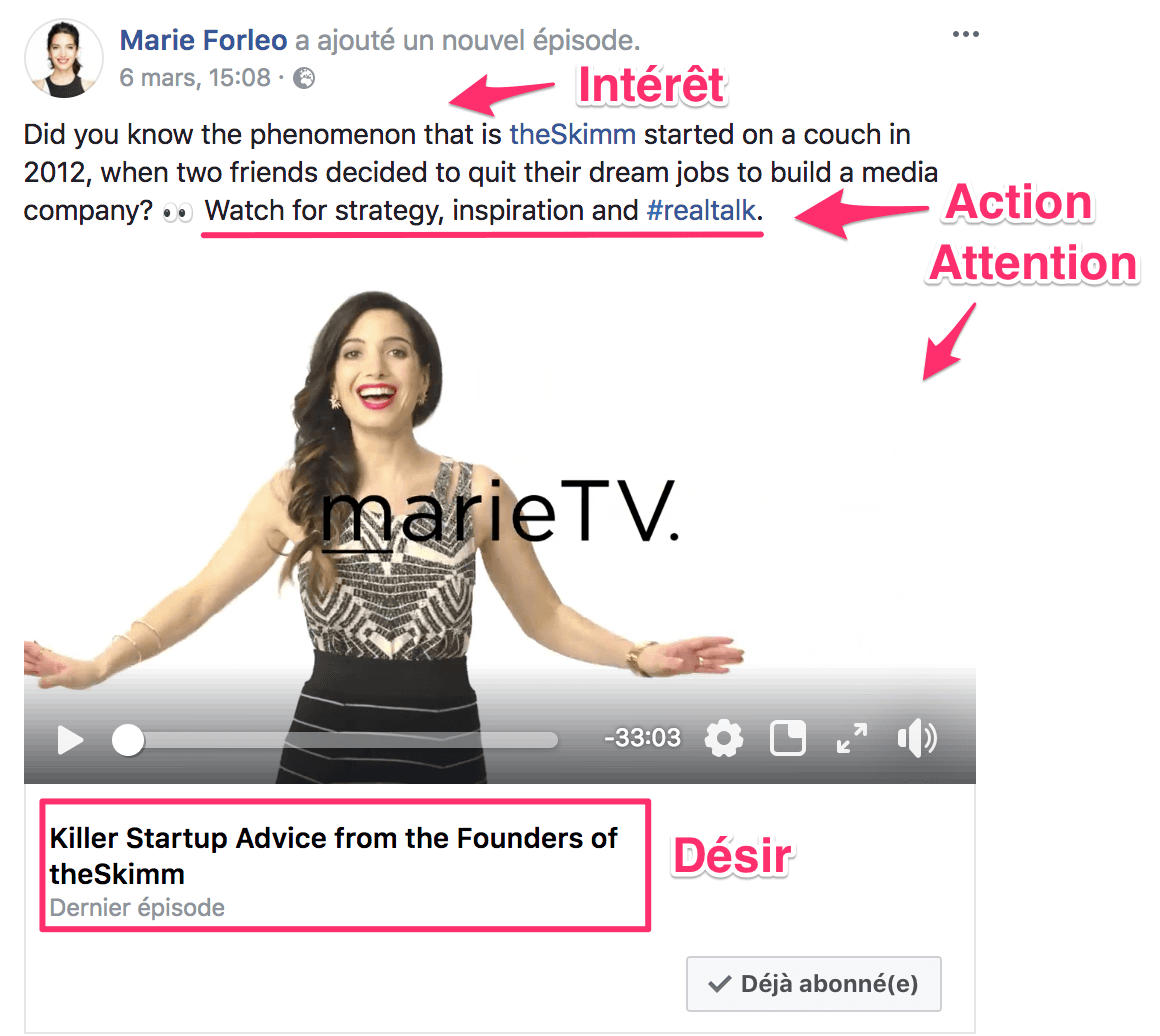 When you write a Facebook post (be it an organic post or an ad), you can easily use the AIDA formula as you see in this example:
Warning : The first seconds of the video catch your attention with the credits of "Marie TV"
Interest : The question "Did you know that theSkimm company was born on a couch in 2018, when 2 friends decided to leave their dream job to build a media company? "
Desire : the title "Tips for startupers from the founders of theSkimm".
Action : "Look for strategies, inspiration and #realtalk".
The next time you post on Facebook, think of the AIDA formula to be immediately more persuasive in writing 🙂
3) Use emojis and spacing in your Facebook post
According to Hubspot, including emojis in its Facebook publication generates 57% of likes in addition, increase the number of comments by 33% and cause 33% more sharing than posts that do not.
Do not think that because you are a business, you must adopt a serious tone. On LinkedIn, maybe, but not on Facebook.
Remember, Facebook is a social storytelling network and emojis make it easy to convey emotions. Look at this publication: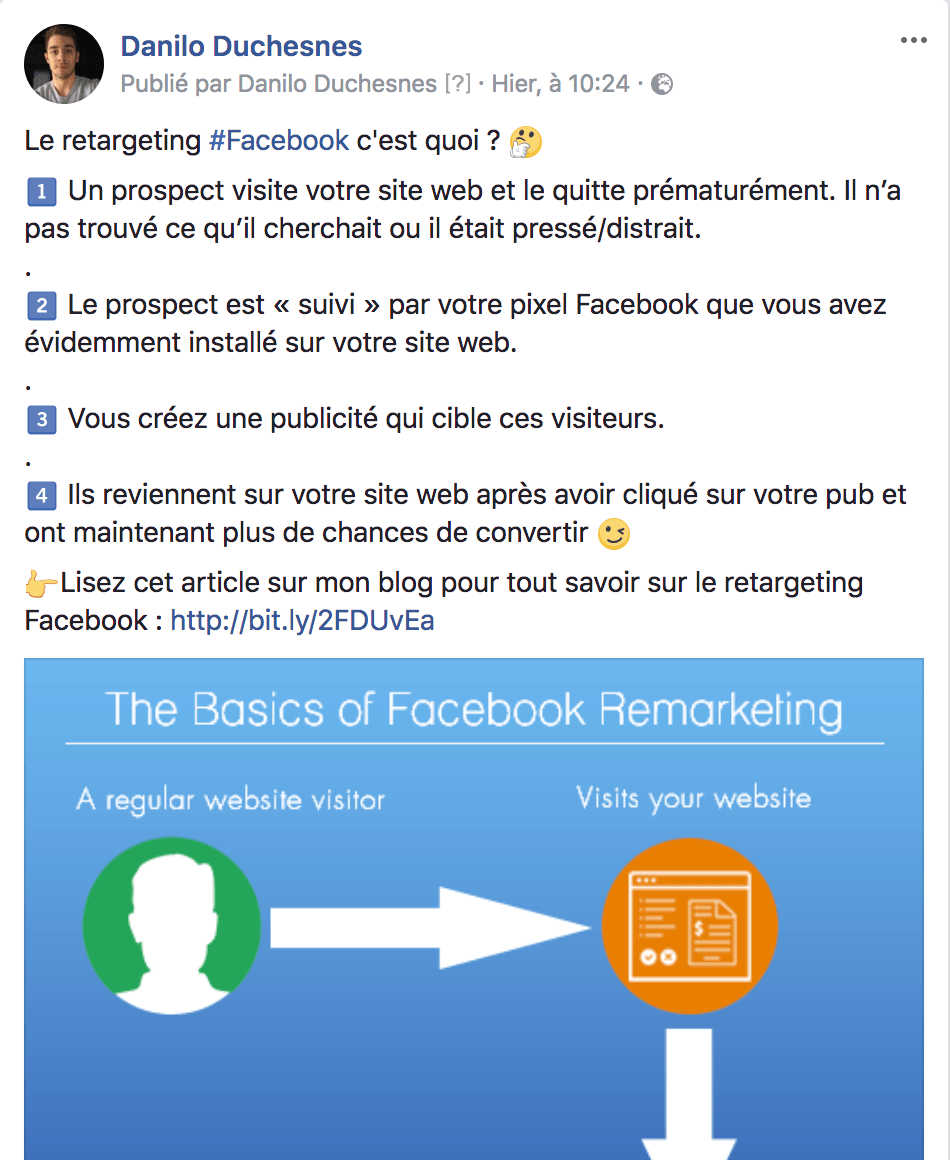 I added emojis, dots to increase the space between the lines and numbers (to give an effect bullet point).
All this makes my Facebook publication more "scannable" for the user always more in a hurry. We use more and more Facebook on mobile.
In the mobile news feed, users watch a piece of content for an average of 1.7 seconds against 2.5 seconds on the desktop.
So your Facebook post should read very easily. In comparison, here is the same publication without emojis, without space and without the blue numbers.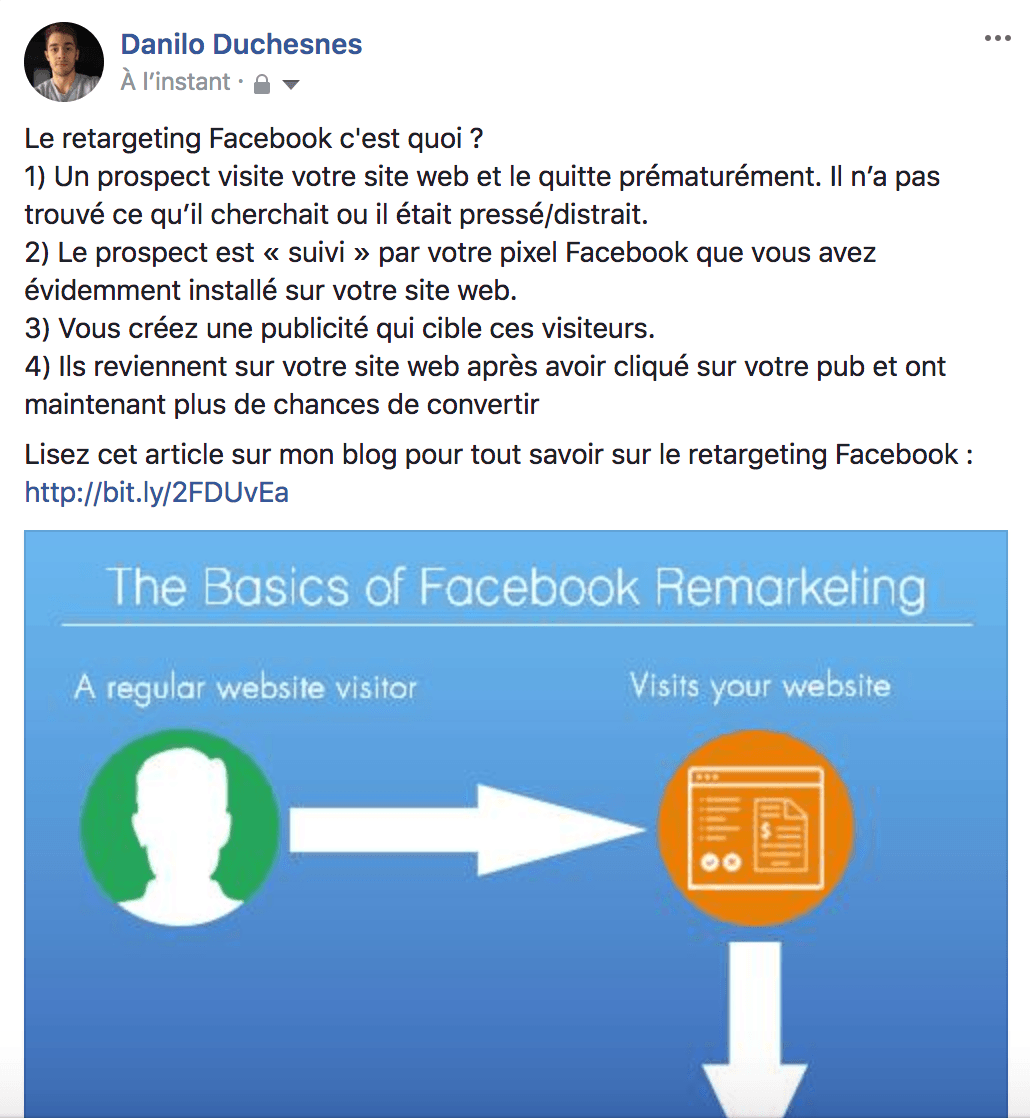 It's different, is not it?
Fewer people would have bothered to read, that's for sure.
Always remember to leave spaces between the lines and add some emojis if that makes sense with the tone you use on your page.
4) Ask a question in the header of your Facebook post
It's no coincidence that blog posts containing a question work so well. This is because the questions pique our curiosity. Indeed, the very fact of seeing a question mark stimulates our brain.
If you were scrolling through your news feed, a question like this would probably have attracted and caught your attention (assuming you're interested in Instagram)!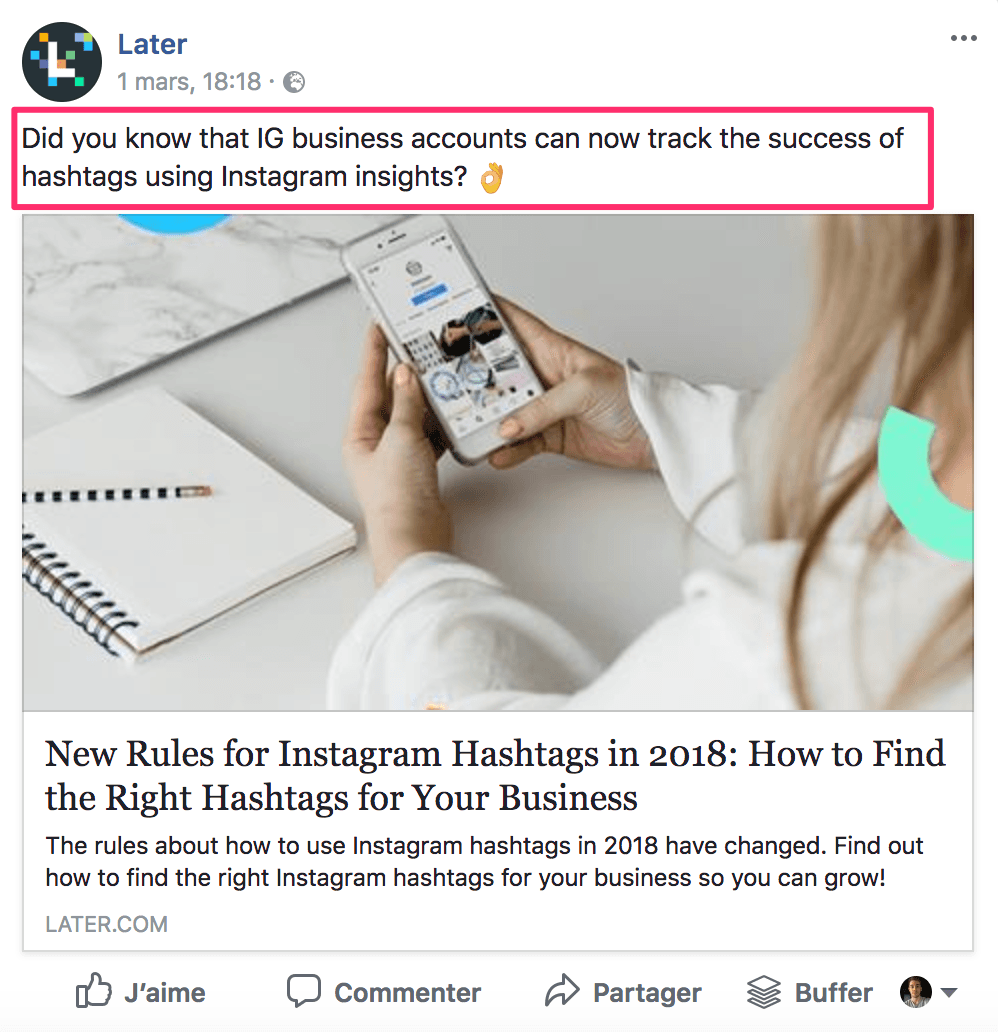 You can write your Facebook post with just one question. Facebook is a social network, it is not because you communicate as a company that you no longer have to behave as a full member of the social network.
Ask questions is precisely the lOne of the best ways to humanize your content and have your fans interact.
Look at this post. Are we trying to sell you something?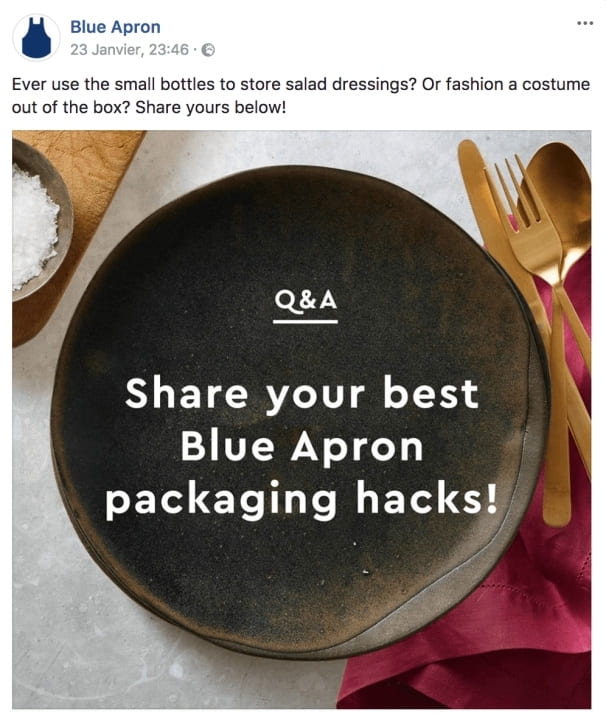 No, on the contrary, Blue Apron only asks for comments! And you should do the same.
As soon as you can, ask a question to ask your fans:
An opinion or reaction: "What do you think of …? or "Do you agree with …? "
Share an experience: "Have you ever …? "
5) Tease the content on your Facebook post
Among the objectives of a Facebook publication, there is also the "click on the link". In other words, write a sufficiently persuasive description to encourage the person to click on your link and visit your website.
(The organic reach is still down but I showed you further that it's still possible to get organic clicks).
Here are some strategies:
1) Rescue an impacting quote from your article
You probably know that if you write articles. In a blog post, you can easily find an impacting passage.
You have it ?
All you have to do is reuse it in your description and add quotation marks!
Look.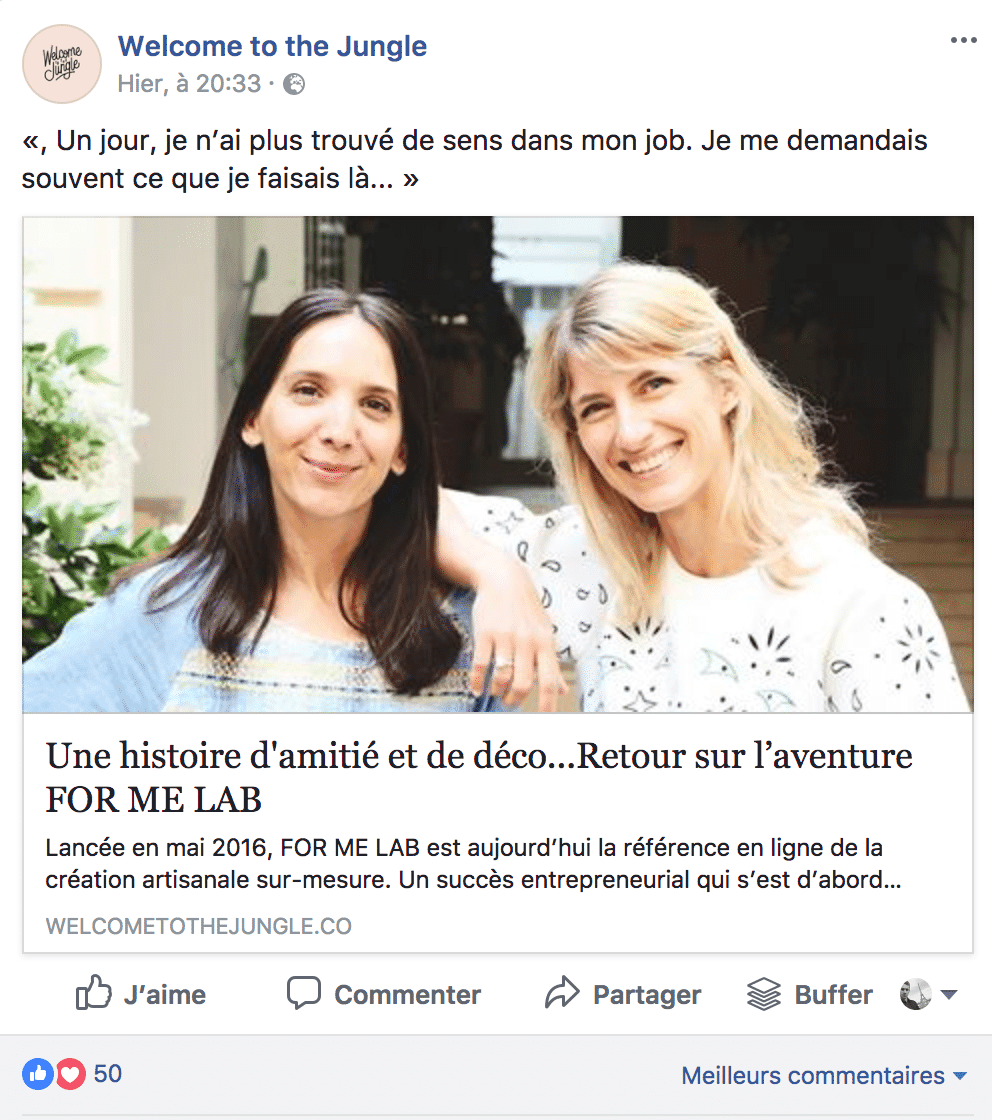 "One day, I did not find the meaning in my job. I often wondered what I was doing there … "
It's deep !
It makes me want to read this article, leave a comment and even a small like !
2) Quote one or more facts to add intrigue
AdEspresso does it very well, look at: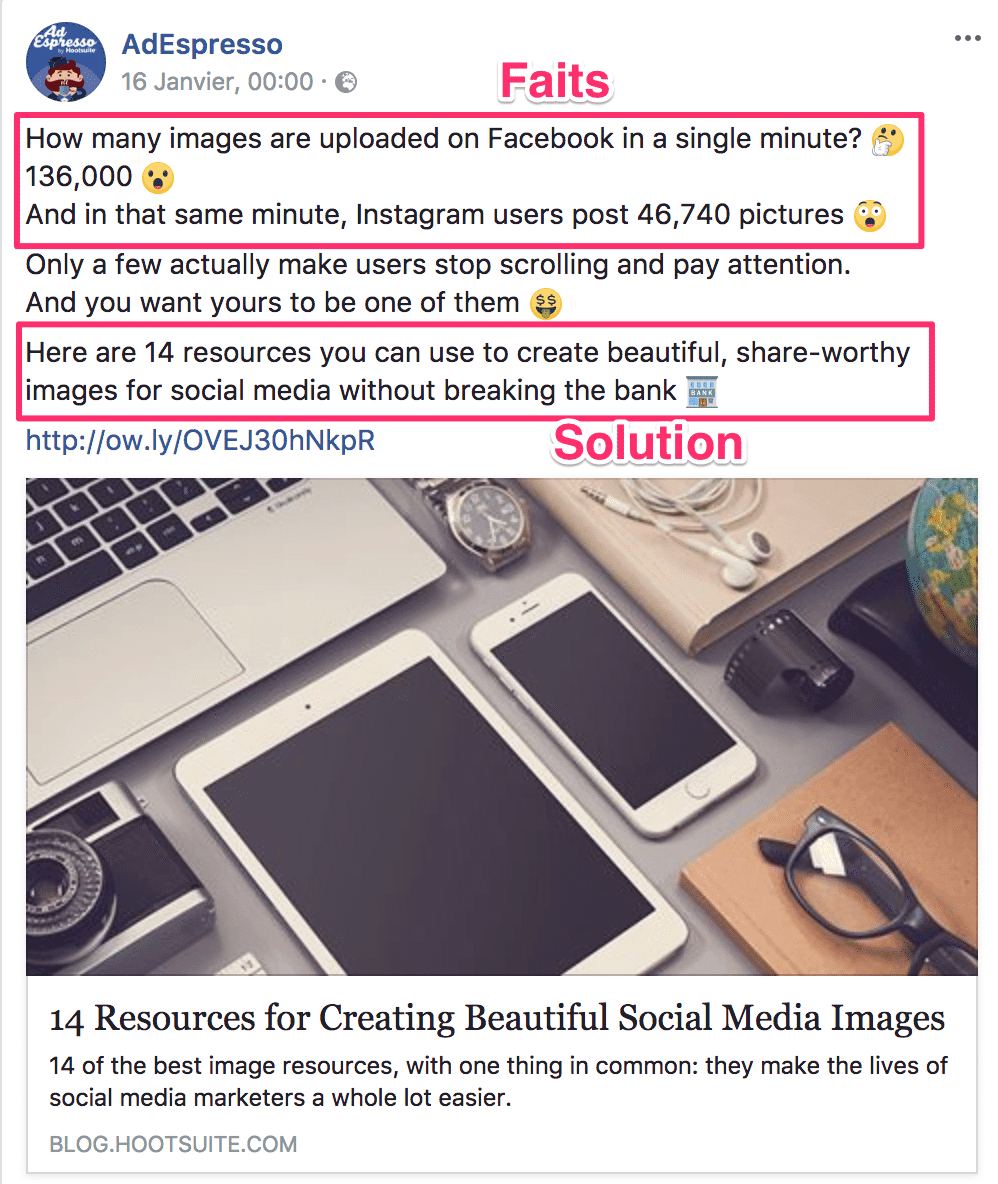 3) Add a hint of mystery to a list
"List" articles or videos are generally highly appreciated by Internet users.
By observing the English-speaking publications a little, I noticed that they had the great habit of "teasing" part of the list, by putting one item on the list.
Look :
"We can all get behind # 3"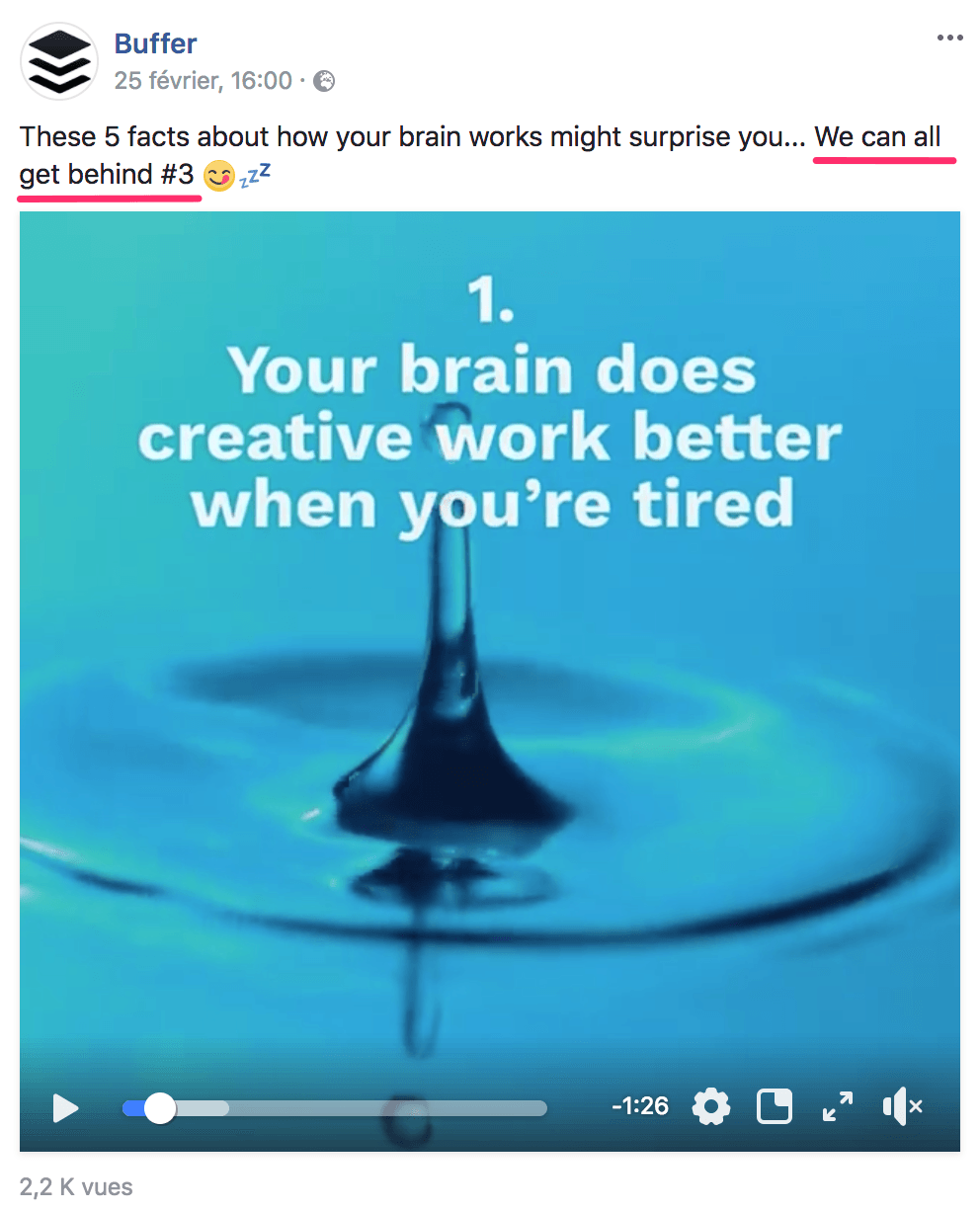 What is the secret number 3?
I want to know!
6) Play according to the rules of the Facebook algorithm (Edgerank)
As you know, the Facebook algorithm naturally limits the organic reach of Pages, and even more if you do not follow the rules.
When you publish a post on Facebook, the algorithm starts and analyzes your content. Is it an image, text, video, live or link?
Then the algorithm will show your content to just a few fans of your page. This is where you will appreciate what I am going to tell you …
If these people react positively to your content, the algorithm will extend your content to the rest of your subscribers.
In order to obtain this initial commitment (and not to upset the algorithm), it is necessary to respect some rules:
Avoid excessive promotion within your Facebook post
Always approach your content strategy with the following state of mind:
Who do you publish for? For you or your fans?
Most of the time, we see that companies publish for them and promote themselves (thinking it will not be noticed).
Do not make this mistake: offer relevant content that your fans want to consume.
They did not follow you to receive promotions every day!
Add media (gifs, images, videos)
According to Buzzsumo, the publications that receive the most commitment are the videos (not surprisingly), followed by the images.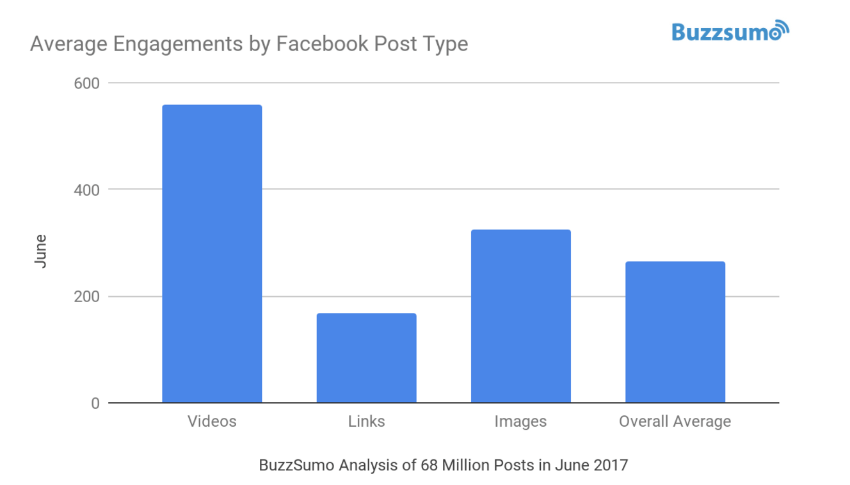 Facebook's algorithm looks at engagement on your publications, and even more comments, to determine if a publication is relevant and deserves an organic boost.
You know what you have to do, publish images, videos or GIFs.
For images and videos, you could test the square format that takes more space on the mobile.
More space = more attention.
Your turn to try.
Add a CTA to your Facebook post
A publication without CTA (call to action) is not a good publication.
The call to action encourages your audience to respond:
Click on a link
Comment
Give its opinion
A publication without a call to action will have less impact.
On the other hand, if you place too many calls to action, you risk disrupting your audience, who will not really know if it should click, comment or put a like !
Generally, make a call to action by publication.
Most of the time, a simple question does the trick.
Avoid making publications too long
I told you at the beginning of the article not to hesitate to make publications a little longer, but I did not say that it was necessary to write to say to write.
Think about the main message you want to convey, and ask yourself if every word you write helps to get that message across. No one has time to read or watch long content that does not get right to the point.
Conclusion on Facebook publications
Let's just recap from this article on Facebook posts:
The perfect Facebook publication does not exist, but we can get close to it. For that, I suggest you to:
Test the length of your Facebook posts : short or long, it's up to you. Just do not add words to say to add.
Use the AIDA copywriting formula to write impactful publications.
Use emoji and spacings to make your publications more "scannable".
To ask questions to provoke interactions.
Teaser your contents by sharing impactful quotes or facts.
Play according to the rules of the Facebook algorithm not to penalize you alone!
Thank you for coming to the end! If you want to go further and learn more about the art of Facebook marketing, I invite you to download and read my free guide that presents the new Facebook marketing rules.
I explain in detail the operation of the "new" algorithm of Facebook (since the recent update) and I give you the strategies to adopt to remain visible on the social network in 2018.
---
Image credit in the news: DepositPhotos
Overall rating of our readers
Your rating
[Total: 19 Average: 4.6]