4 reasons that explain your lack of commitment
It is no longer a secret that the flagship social network is making life more difficult for the community manager. With the perpetual updates of its algorithm, the engagement of a Facebook Page is more and more limited.
It is very simple. Today, he is practically impossible to develop a Page without using the Facebook Ads Manager.
The more time passes and the more it seems difficult to reach the fans of your Page. Those fans who took you so much time and work to conquer lose value little by little.
I do not say that to be cynical or anything but the reality is there. Facebook's algorithm does not like you. He prefers friends and family rather than your …
Since the end of 2016, Facebook has been adjusting its algorithm to focus even more on your friends' and family's posts in the news feed.
In this blog post announcing the update of the algorithm, Facebook has even warned that the owners of Facebook Pages could see the organic reach of their Page to reach 2%.
Has the organic reach of all Facebook Pages gone down to less than 2%?
Obviously no! Some Facebook Pages are still doing very well.
And it's not due to chance or chance. The owners of these pages use Facebook's best practices to gain commitment.
We know that Facebook loves commitment and that the higher your commitment, more Facebook will naturally "push" your posts in the news feed.
Maybe you just had trouble getting commitment (naturally) on your Page.
So, chances are you make these few mistakes.
You do not publish enough videos on your Facebook Page
According to Cisco, 80% of web content will be video in 2019!
As a CM, it made me feel like I needed to make video as quickly as possible to follow the trend.
And yet, very few Community Managers publish videos on Facebook.
In any case, that's what I see when I do my daily watch of my competing pages.
There are places to take with video, it's a fact.
I know what you think maybe.
It's hard to show yourself on video on the Internet and then editing takes time to do and it takes technical skills that you do not have time to learn.
I was like that too. I thought the video was only for technical people and safe enough to do some editing.
Still, I still find solutions to use video because there are tons ofweb applications that allow me to create short videos quickly.
First, what kind of videos can you publish on social networks?
Facebook lives
What is most common is the live Q & A. You are asked questions, you answer them.
According to Facebook, users comment 10 times more a live video that pre-recorded videos.
The big advantage of Live Video (in addition to the commitment it arouses) is that Facebook promotes this type of publications in the news feed.
Some of your fans will receive a notification telling them that you are in Live.
To test so.
The "How-To" videos
These are ideal if you have a particular know-how that you can show to your target audience (I'll show you which software to use to make How-tos videos).
You can also turn a blog article into a short video with the key points of this article. We will see how to do a little further in this article.
"Behind The Scene" videos
These are also very simple to do.
You take your smartphone and shoot anything that is interesting to show in your daily activities.
The advantage of these videos is that they do not require a big effort on your part for the editing since it is precisely the purpose of these videos: to be authentic
For example, recently I went to a seminar and published some videos of the atmosphere. The fans of my Page loved it and even asked me questions in comment on the interest of the seminars!
What software / apps to use to easily create videos for social networks?
Lumen5
Lumen5 is an awesome online software that lets you turn a blog post into a video almost automatically.
Here's how to do it:
First, create an account by clicking on this link (it's free). Then you enter the dashboard and you can create your first video (Lumen5 guides you to the beginning).
Start by copying and pasting an article from your blog.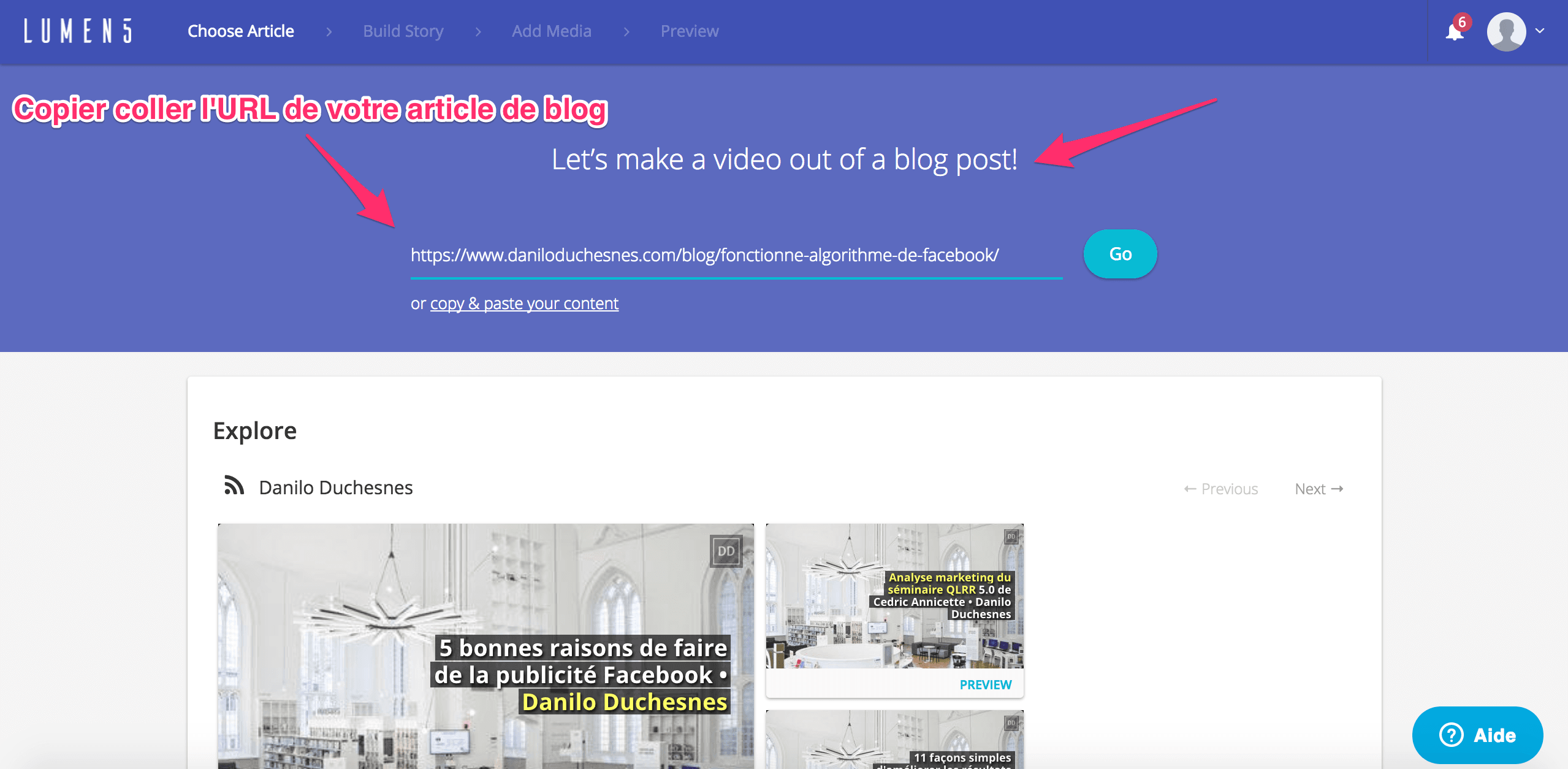 Then, Lumen5 will take the full content of your article and you just have to select the important points.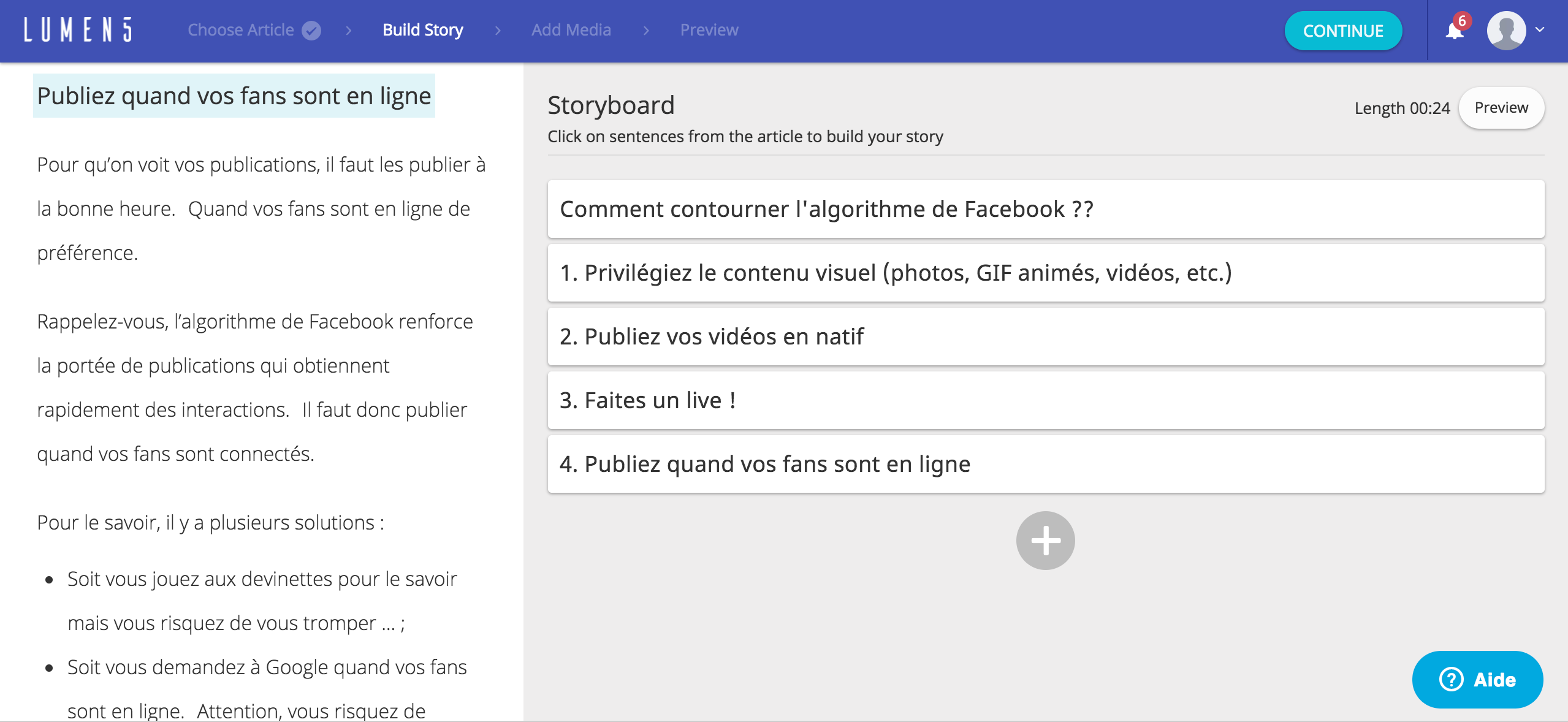 It's really very intuitive. By pressing "continue" at the top left, Lumen5 will create a small video in which you can edit images, animations, colors and background music.
All this for free.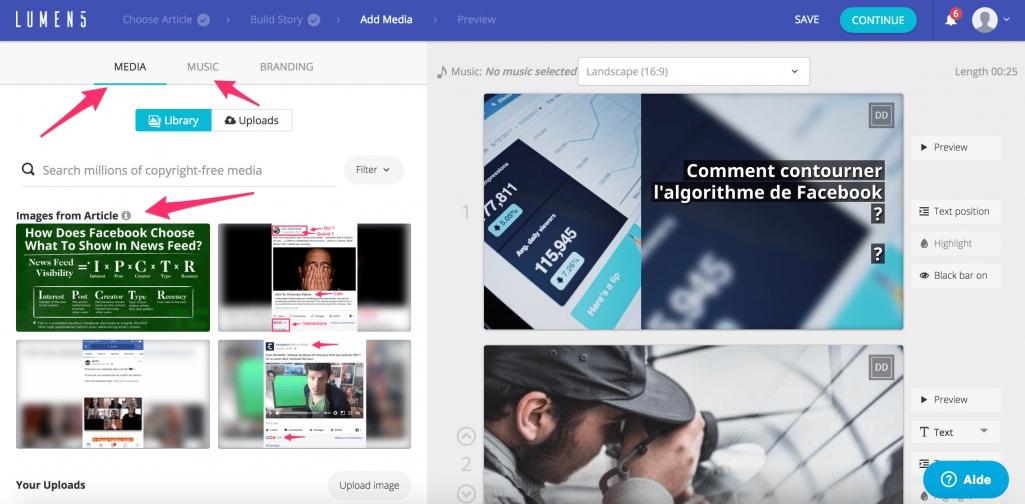 Then you just have to upload your video and publish it on Facebook.
Pro TIP: Put the link of your blog post in comment at the beginning. If the video takes off and gets a good reach, modify the description and add the link of your article (Facebook does not like the links in the description, it is better to put them after so that your video gets a bigger initial range).
Animoto
I was talking about How-To videos.
Animoto allows you to easily create videos of this type for social networks!
The peculiarity of Animoto is that you can create a video from a "Storyboard" model preconceived in advance (perfect if you start).
Then you add your images or mini-clips and you combine all that video.
What's also interesting is that you can easily add subtitles so that the video is understandable without sound.
Mostly, you can make a video in square format. This takes the most space on Facebook and Instagram, and therefore retains more user attention.
The base price of the software is only $ 9.99 per month but I recommend the $ 19.99 version where you can upload your videos in 1080p and work with the square format.
You do not boost the best publications of your Facebook Page
Boosting publications is so great. Feel free to use Facebook advertising to spread the commitment of your flagship publications.
You give a few euros to Facebook to increase the visibility of a publication and a few hours later, thousands of people have seen your publication. Foot !
In the publications boosters, there are two schools. There are those who:
Always boost each publication.
Never boost their publications.
I am between the 2.
Personally, I do not like spending my budget too much to get commitment or have more reach on my Facebook page. After all, it does not bring me anything …
So what I do is boost only those publications that have received the most commitment initially.
I'm just going into the statistics of my Page and I'm watching publications whose engagement rate was better than others.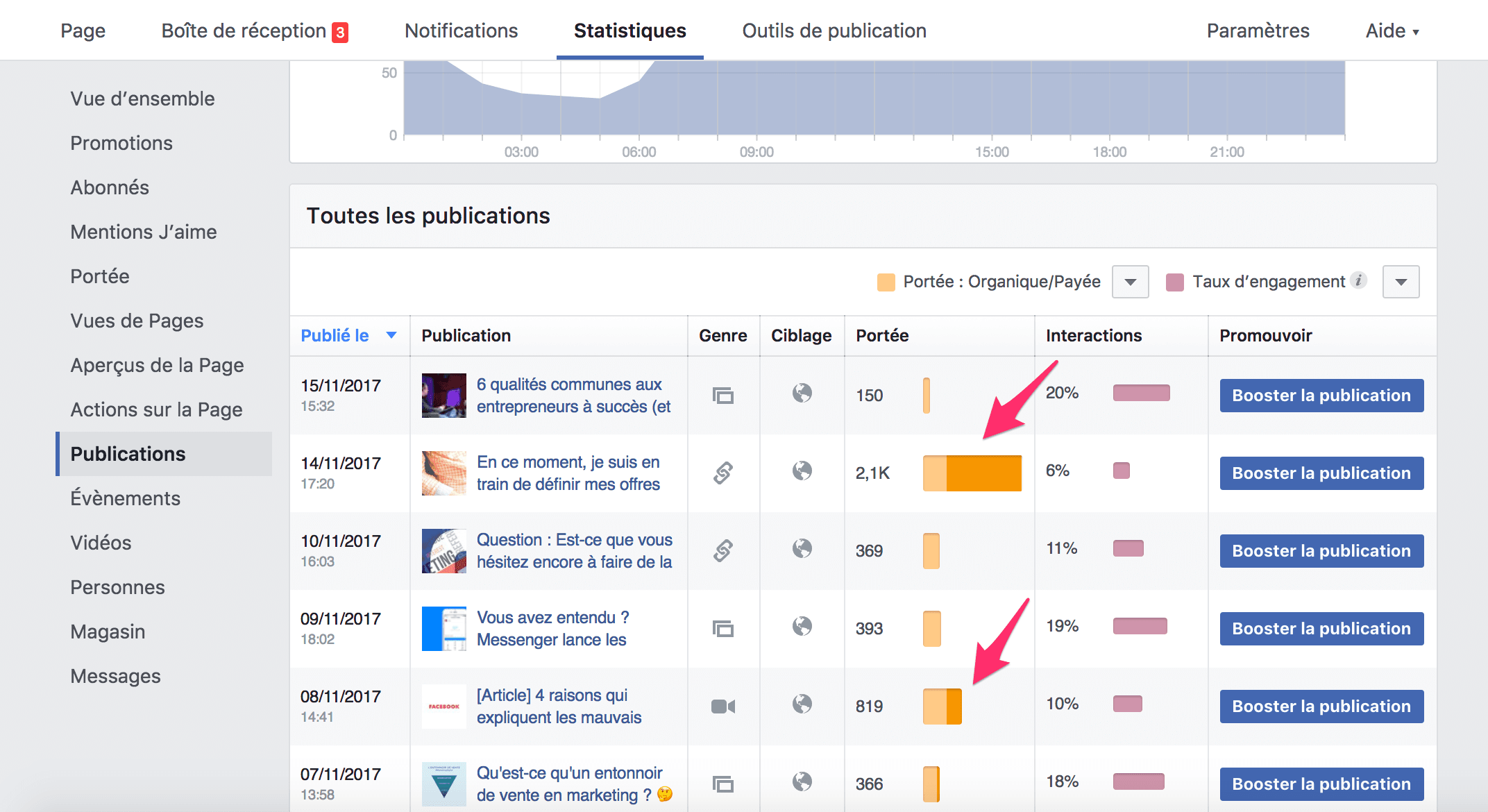 In this screenshot, I show you 2 publications that I boosted.
You see that the engagement rate for these publications is lower. This is normal, the range has increased sharply (since I paid for it) and the commitment has not increased by the same proportion.
As a result, my engagement rate was a little "diluted" by the over-reach. Basically, these two publications had received a very good initial commitment rate.
If we take our statistics and choose to sort by "clicks on the publication" and "reactions, comments and sharing" rather than "commitment rate", we can see that the commitment was much higher on these boosted publications.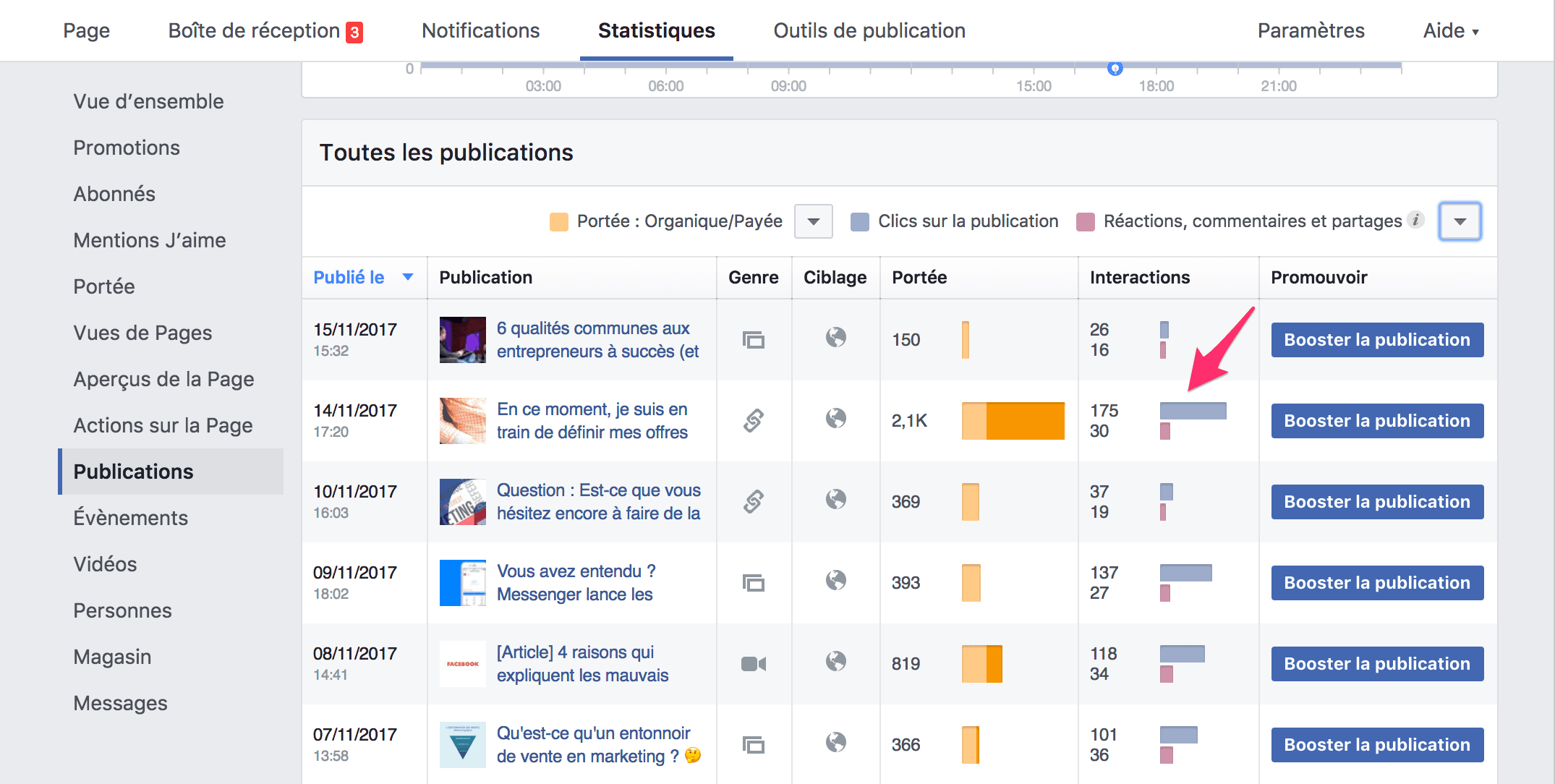 To select my publications, I like to take publications that have obtained a commitment rate at least 50% higher than the average engagement of my Facebook page. That's why I classify publications by "engagement rate".
For the audience, I like to use similar audiences of all the people who interacted with my Page.
Similar audiences are audiences that allow you to find people who have characteristics (socio-demographic, interests, behaviors, etc.) similar to those of a source audience.
A similar audience is built from a personalized audience (this is the source audience).
To create a similar audience, I go to the Facebook Ads Manager. Then I go to the "Hearings" section and press the "Create a similar audience" button.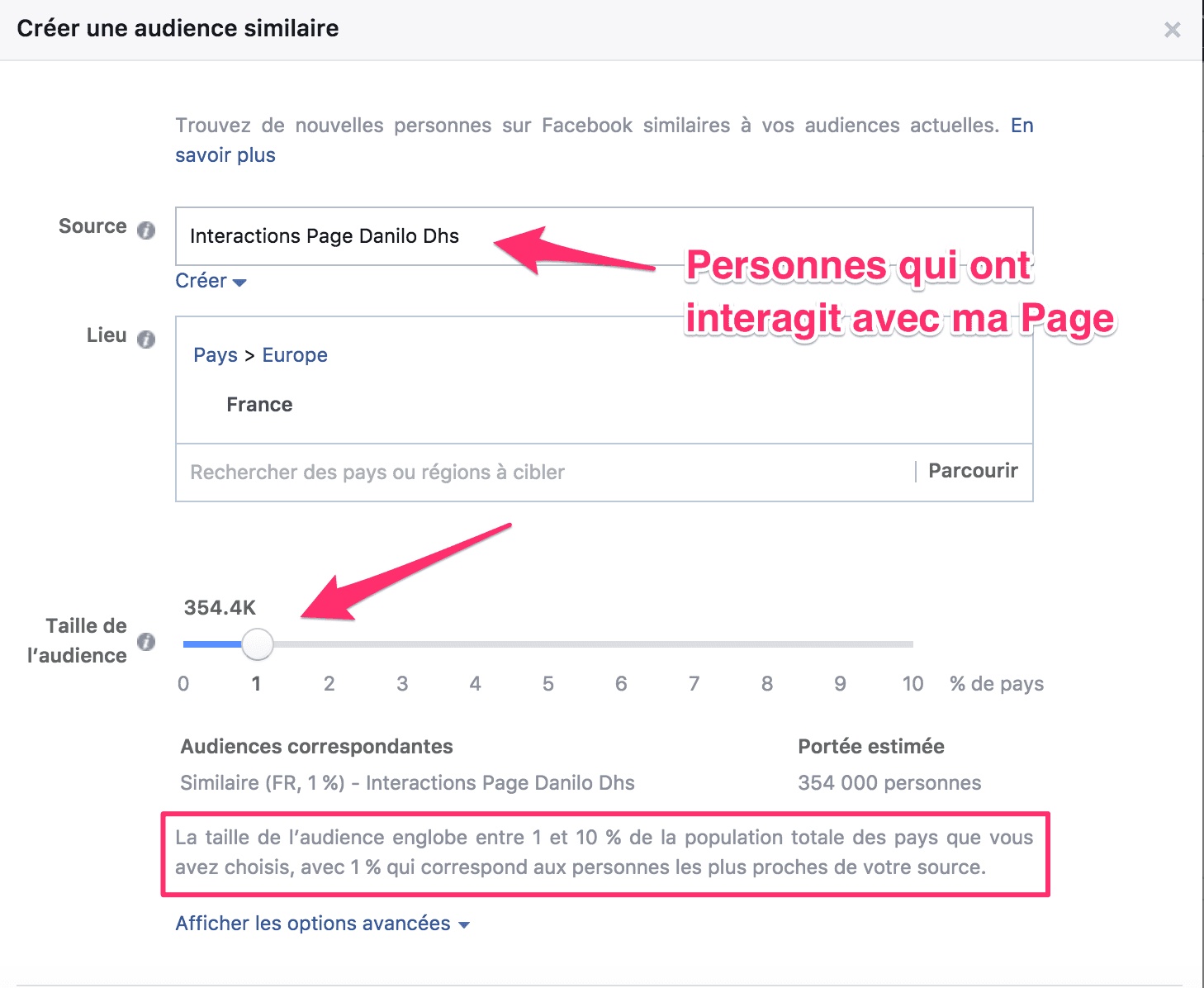 I choose the country and the size of the audience (1% of the selected country).
Then I just have to choose this audience to boost my publication. In this way, I increase my chances of new people interacting with my publications.
You do not vary your content enough
Content is king!
You know this maxim but few people realize that you have to vary its content on Facebook.
When I look at the pages of my competitors, I notice that they are content to only publish their latest blog posts and from time to time publish a quote …
This is not what I call varying its contents.
In the same vein, if you start to publish too often videos that you made with your brand new Lumen5 software, your fans may get bored.
Fortunately on Facebook it's very simple, you can publish extremely varied content like:
Links (from time to time to increase the traffic of your blog);
Videos (Lives, tutorials, how-to, etc.);
Images (statistics, quotes, etc.);
Do polls (Facebook has just launched a new feature to create polls);
Make slideshows.
As a blogger, what I like to do for my Facebook Page is to publish varying educational content and entertaining (or inspiring) content.
Both provide engagement, but in a different way.
Educational content allows me to show my value and learn something new to my audience while the entertaining content allows me to trigger a conversation with my fans.
You publish too much on your Facebook page
With the decline in the organic reach of the Pages, the first reaction of the CMs was to publish a lot, for example twice a day.
Logically, by publishing more, we are more likely to appear in the news feed and increase our reach.
But it did worse than better.
Of the month, this is what Buffer explains, which multiplied by 3 the reach and the engagement of their Facebook page by publishing 5 times less.
Why did they publish less?
The first reason is that there is far too much content published on Facebook. To resume the figures given by Buffer in May 2017, in 20 minutes on Facebook, there is:
1 million shared links.
4.86 million photos uploaded.
763,888 new statutes published.
In 2016, the Buffer community manager published up to 5 times a day on the Facebook Page. At the end of 2016, they slowly decreased the frequency of their publications until publish once a day only.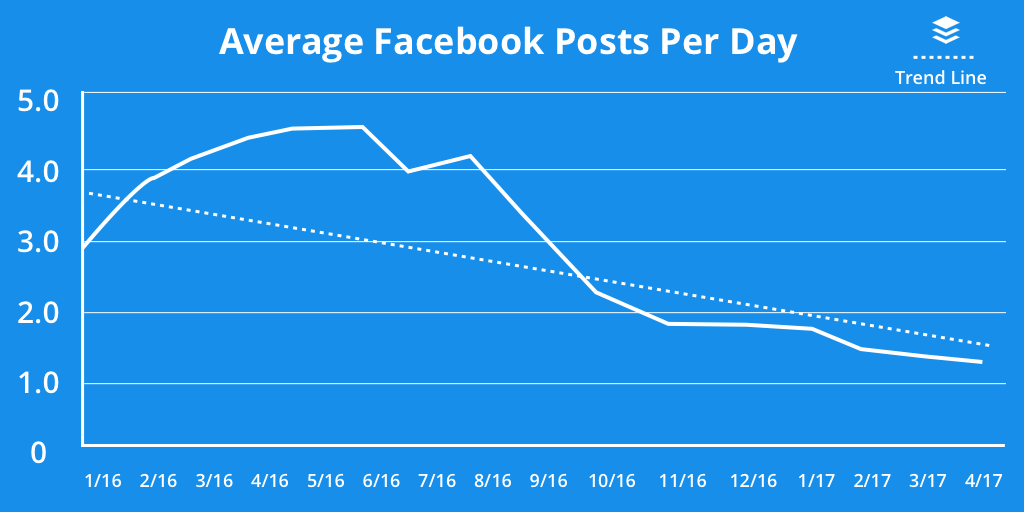 Source: Buffer
Look at how the reach and engagement of their page has increased sharply with the decrease in publications.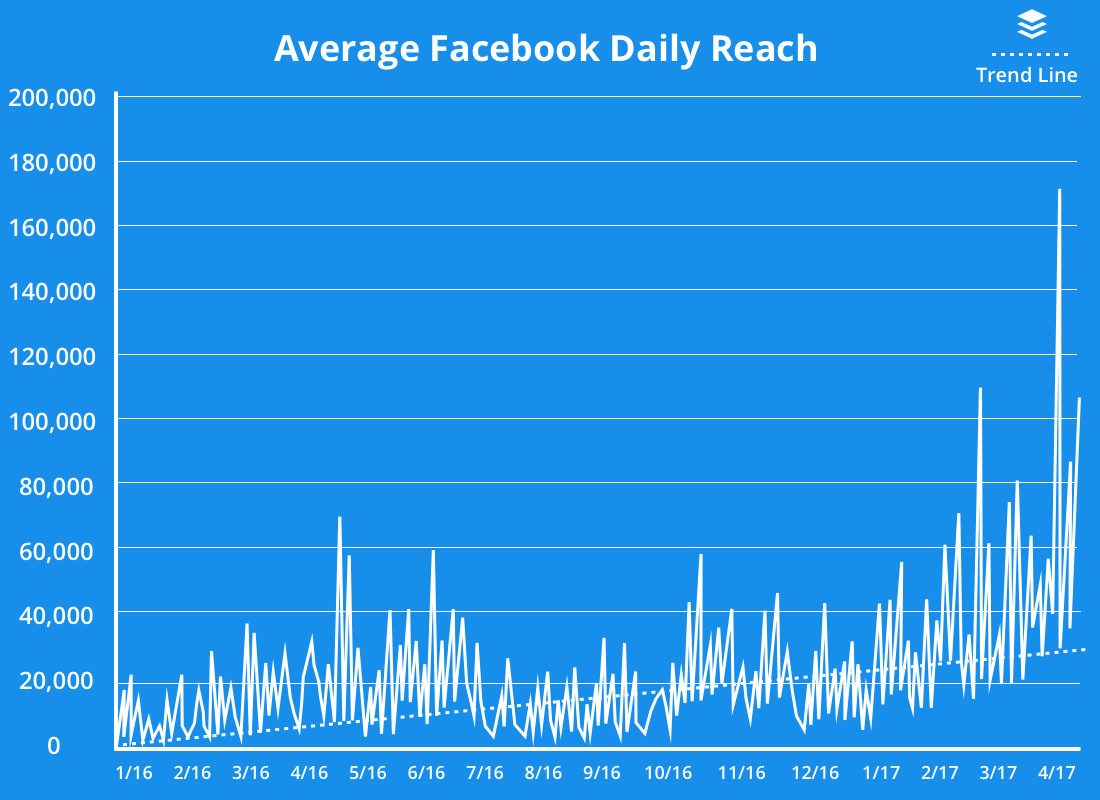 Source: Buffer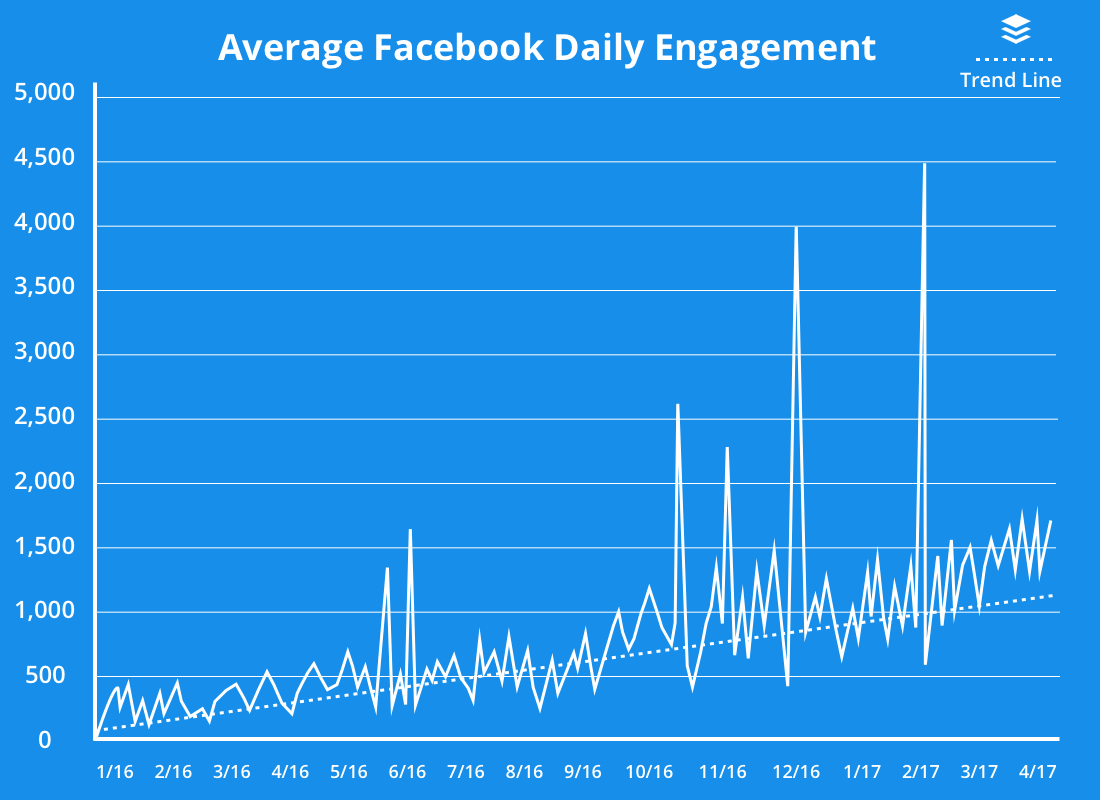 Source: Buffer
What can you learn from this case study?
Like Buffer: publish less allows you to focus on quality, not quantity.
As Bryan Peters (Buffer's community manager) says: "We are able to share our best content by publishing once or twice a day. When we publish 4 or 5 times a day, we can not regularly find quality content to share. "
The solution here is simple: less is more. Publish less but publish better!
For my own Page, I publish only 4 or 5 times a week publications sought and commitment has never been so high.
Conclusion on the commitment of a Facebook Page
It is true that getting commitment on a Facebook Page seems complicated in appearance, especially if you just launched your Page or you stagnate a few hundred likes.
The idea is to post ever more interesting and varied content by focusing on visual content (images, videos and GIF). Software like Lumen5 or Animoto allows you to create videos in an intuitive way and from images or mini-video clips.
Then, it is essential to get hold of the wallet (eg € 10 per week) to boost your Facebook Page's publications that worked very well.
Finally, post less but better! Publish 1 time a day seems largely enough in my opinion (and Buffer statistics!).
If you want to go further and learn the new rules of Facebook marketing, I invite you to download and read my free guide on the Facebook marketing where I give you other strategies like this to boost the visibility of your Facebook Page!
Overall rating of our readers
Your rating
[Total: 65 Average: 4.6]